Operational Risk has become a key area of priority for banks in recent past due to regulatory pressures. The banks are identifying ways of measuring, monitoring, and predicting losses due to operational risk in the system and the associated capital requirements.
Operational losses are typically low frequency high value events, which mean the distribution of severity has a scarcely populated long tail region. However, modeling tails effectively (required to assess capital requirements accurately) puts ominous demand on amount of data required, which is a serious challenge in case of operational loss event data.
This paper aims to provide an operational risk (OR) capital measurement framework for banks. Basel II has proposed three approaches for measurement of operational risk, namely, Basic Indicator Approach (BIA), Standardized Approach, and Advanced Measurement Approach (AMA). This paper focuses on AMA.
The methodology applied to implement AMA is Loss Distribution Approach (LDA). LDA has three components to it – modeling of number of loss occurrences (frequency) in a given year, modeling severity of loss occurrence, and aggregation of the two to compute aggregate loss distribution. Capital requirement can be measured as 99.9th percentile of this aggregate loss curve. The LDA is graphically presented in the diagram below: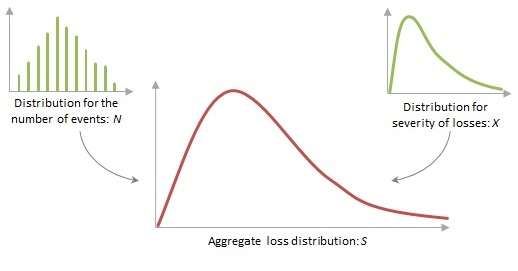 The above mentioned curves are required to be computed at a Business Line level for each operational loss event type and then aggregated to enterprise level. The business lines, as laid out in Basel accord, are as follows:
Corporate Finance
Trading And Sales
Retail Brokerage
Commercial Banking
Retail Banking
Payment And Settlement
Agency Services
Asset Management
The event types, as laid out in Basel accord, are as follows:
Internal Fraud
External Fraud
Employment Practices and Workplace Safety
Clients, Products, and Business Practices
Damage to Physical Assets
Business Disruption And System Failures
Execution, Delivery, and Process Management
The overall operational risk capital calculations require the loss curves to be generated for each 'cell' of the two dimensional grid (created by the combination of Business Line and Event Type). The paper focuses on methodologies to generate the loss curves for each 'cell'. It does not cover the aggregation of various Business Line/Event Type cells for computation of enterprise level capital.
The paper also highlights practical challenges and solutions for tackling issues arising out of modeling tails and challenges due to the paucity of data. It also explores the option of modeling severity using a piece wise two distribution approach versus a single distribution function.