The focus of healthcare, globally, has been on treatment of disease and taking care of the sick. The approach has been reactive i.e. treat the sick. This approach basically leads to intervention only when the health of any person reaches a critical stage, with clinical intervention and hospitalization being the outcome. On top of this the healthcare system is constrained by spiraling cost driven by inefficient care system. This unsustainable economic impact of cost of care is driving the focus towards proactive health and care management.
In response to this several key trends are evident in the US healthcare landscape
Focus of healthcare cost to continuously shift toward prevention and diagnosis.
Spiraling cost driven by inefficient system driving focus towards care accountability.
Evolution of new care delivery models to focus on overall Health Risk Management
Moving away from pay-for-service to pay-for-performance approach towards provider re-imbursements.
Evolution and growth of Accountable Care Organizations, with redefined risk-sharing approach to drive participation and accountability.
And most importantly, increasing focus and investment into proactive care management and population health management.
What is care management? Care management programs are expected to leverage systems, incentives, and information to assist consumers and their support system to become engaged in a collaborative process designed to manage medical/social/mental health conditions more effectively.
At a high level this objective looks universal, however to successfully realize this goal we have to act at more granular sub-population or population cohort's level based on where an individual is on the Continuum of Care – ranging from healthy population to active disease and finally catastrophically ill. The care objectives shall vary significantly across these cohorts of population. While the key care management goal for healthy population will be to maintain their health and mitigate risk; active disease population needs focus towards avoiding disease progression, comorbidities and plugging any gaps in care. Hence, the approaches to manage health life of Healthy, Active Disease and Catastrophically Ill population will have to be specific and different.
We have to follow a comprehensive and scalable approach to analyze, assess and act on key risk factors to make proactive care interventions and avoid movement of individuals from lower to higher risk categories. Such an approach needs a well-defined Care Management Framework powered by Analytics to enable prediction, pre-emption and proactive management of population health.
Achieving Care Management Goals through Analytics
The Care Management Framework needs to focus on five key dimensions of population care management. They are,
Identification
Stratification
Prioritization
Intervention
Evaluation
Each of these components actively interacts with each other to assess risk, intervene to manage risk and evaluate outcomes.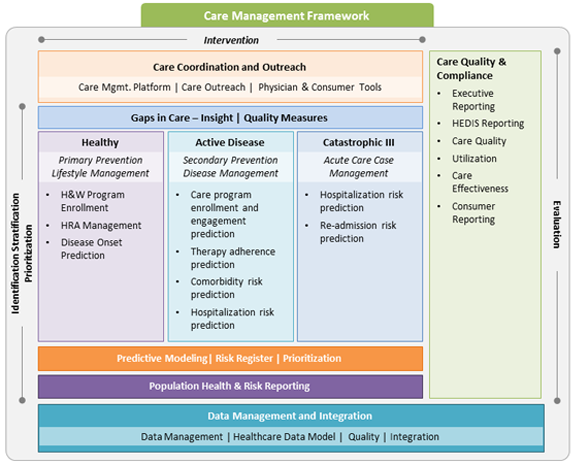 Analytics and Technology tools form the core of Care Management framework. The entire idea of proactive care intervention is based on the ability to integrate individual data for a comprehensive care view, leveraging advanced and predictive analytics to forecast risk, utilize technology platforms to implement intervention strategies and above all, constantly evaluate the impact of these approaches.
The successful implementation of this framework needs a "strong core" i.e. a well-structured Care Management Analytics workflow – starting from Data Management and Integration to Risk Assessment models and finally leveraging insights to make personalized interventions.
Implementing the Care Management Framework
Driving the change from "reactive sick care" to "proactive health care" requires a transformational approach rather than incremental upgrades. It needs a change of organizational mindset and integration of several care management channels. We believe it's a four step process to achieve the desired state of a unified proactive care management system.

In order to successfully implement the discussed Analytics driven Care Management Framework, the care organization needs to embed analytical process very tightly into the entire member care ecosystem. The first key aspect of implementing the embedded analytics process is to integrate the data from multiple sources and transform that into analytics consumable elements. The care analytics engine will consume these elements and leverage risk assessment algorithms, care need prediction analytics, segmentation and prioritization algorithms to churn out a member level personalized risk register. Finally, the insights and member risk profiles information is delivered for care managers via insightful reports and integrated with care intervention systems, example Electronic Registries, Physician/Member portal, Care Management system, Online Outreach Campaign/Education management system and other such platforms. This ensures that member health risk and care insights are embedded in all care intervention channels in a unified way and is leveraged for all member level interventions across channels.
Today's healthcare environment needs to undergo a transformation from a reactive approach to a proactive care management approach. A proactive care management framework, powered by predictive analytics and comprehensive insights, can go a long way in bringing about such a transformation by improving member and population health life; and controlling cost of care. Analytics capabilities today are advanced enough to generate individual level insights to make the entire care ecosystem intelligent and personalized.
The roadmap to successfully implement such a framework is not without pitfalls, however with the organizational focus and discipline coupled with sound analytical and technological capabilities, the Care Management Framework can be the big step ahead in our constant endeavor to improve health outcomes and manage cost.
Please fill the following to receive the Whitepaper through email.