The client wants to become a 'Go-to-Bank' by increasing engagement level of its customers. They noticed inactivity and secondary treatment by some of their customers and want to identify opportunity lost, indicators of permanent disengagement and retention strategies.
We started with defining engagement. We listed the characteristics of what an engaged customer will look like in order to paint the picture of success.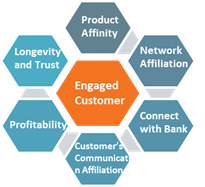 After multiple triangulations we defined an engaged customer as one with 'high credit throughput'. These customers also showed higher product holdings and higher transaction levels. We classified them into 3 segments – low, medium and high.
Next, we performed the roll rate analysis over a 12 month period that helped conclude that disengaged customers show far more "sticky" behavior than engaged ones. This was followed with the end state analysis to create end states on the basis of transition pattern. We then calculated actual loss across various customer segments as well as notional loss using clustering and similarity testing.

We then performed predictive modeling. "Falling engagement" customers were denoted as 1's and "Increased engagement" as 0's. CHAID charts for early warning indicators of change in engagement were created. For Example: for falling engagement - Lower debit transactions, falling trend in direct debit transactions, falling branch visits; for increased engagement - Increased online transfers and online bill payments, registration for mobile banking.
Model findings were leveraged to provide several recommendations:
Deepen customer understanding by being proactive in executing Middle Market to Prime transitions ; premium services to Prime customers
'Virtualize' the Bank: Effective use of mobile and online channels
Win-Back: Capture disengagement early and improve customer service programs
Make cross-sell a key business focus
Optimize branch and ATM network

The analysis uncovered an opportunity loss of $30M!