Situation
A large home improvement retailer is facing issues with respect to inventory planning in two of its departments, leading to burgeoning costs, inefficient processes, customer dissatisfaction etc. The client needs a solution for accurately forecasting demand so that inventory planning can be more scientific.
Approach
Business volatility and complex influencing factors make forecasting a tricky business. Our Machine Learning algorithms deliver reliable results that 'learn' from data to build and constantly refine predictive models.

Our Data Science team uses a host of forecasting methods for a given demand estimation problem and selects the model that gives the best results, in terms of minimal forecasting error and highest stability.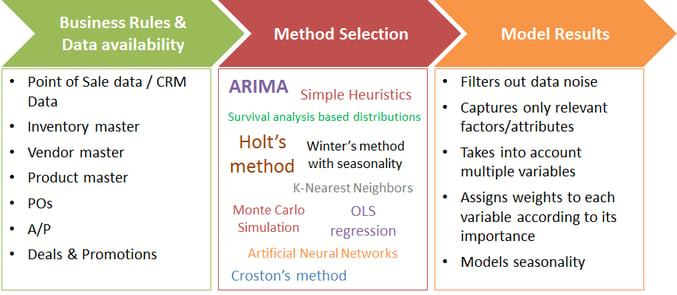 Result
Axtria's demand forecasting helped estimate demand by products at different price points enabling effective and efficient inventory planning.
High granularity of forecasting was provided including demand with respect to color, texture and size of the products. The model helped in stocking the right inventory.