Axtria, a global leader in cloud software and data analytics for the life sciences commercial business, is excited to announce Axtria Disrupt 2020, a summit designed for leading commercial executives. Organizers expect a wide variety of sales, marketing, and technology leaders to attend the September conference. The event will take place on September 29 and 30, and is exclusively for Axtria customers, as well as select, invite-only guests.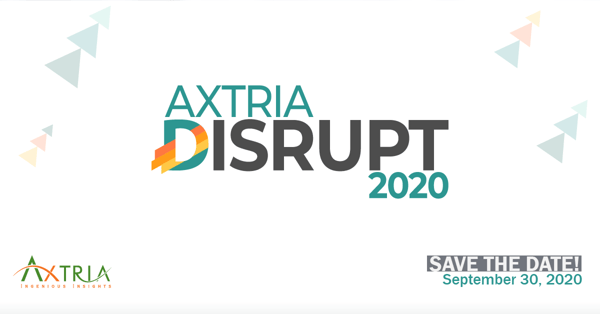 Over the years, Axtria has worked with its clients to improve their sales and marketing effectiveness via data-driven decision making. The company is disrupting life sciences commercial business by enabling new possibilities through the standardization of data to analytics to operations. In September, the company will bring together affluential thought leaders to share insights on the analytics-driven life sciences organizations of today and tomorrow.
The theme for Axtria Disrupt 2020 is "Preparing for the Post-Digital Era." 2020 marks a bold new time where digital is no longer the differentiating advantage, but rather the norm. The event will be focused on exploring this post-digital era and how the patient journey will continue to evolve.
"We look forward to bringing together the top leaders in the life sciences industry for a substantive discussion of real-world solutions to key issues facing the industry," said Jassi Chadha, President and Chief Executive Officer of Axtria. "We feel it is essential to have these discussions on how the patient journey is and will continue to evolve in the post-digital era."
Please stay tuned for further information on Axtria Disrupt 2020.