Prior to 1970, almost all surgeries were performed in hospitals. It was not uncommon to wait weeks or months for a surgical appointment, followed by several days in a hospital and several weeks in recovery. That inspired two physicians to create a cost-effective, patient-centric alternative, offering certain high-quality surgical services to patients in an outpatient setting at a fraction of the cost. Their solution: Ambulatory Surgery Centers — more commonly known as ASCs. In just a few years, ASCs redefined the outpatient experience for a vast majority of Americans by offering them a more accessible alternative to hospital-based outpatient procedures.
ASCs treat patients diagnosed by a healthcare provider (HCP) and for whom surgery has been identified as the appropriate treatment. Patients who choose an ASC for their procedure visit the facility on the day of their appointment, have their surgery in a fully-equipped, state-of-the-art operating room, and recover under the care of highly-skilled nurses—all without hospital admission. ASCs may specialize in one procedure or perform surgeries across many specialties. All ASCs have at least one dedicated operating room and the equipment needed to perform surgeries safely with quality patient care.
In the early 1960s, healthcare professionals and government officials felt the need for affordable, accessible outpatient surgery alternatives that delivered top-quality patient care. In 1968, Dr. Wallace Reed and Dr. John Ford committed their idea for a freestanding ambulatory surgery facility to paper and began collecting the endorsements needed to obtain financing for their project.
Learn More - "What Is The Impact Of IDN Consolidation"
Their idea became a reality on February 12, 1970, when SurgCenter, the nation's first freestanding ambulatory surgery facility, opened for business. Five physicians performed five procedures at the facility that day. In the following years, the American Medical Association endorsed the concept of outpatient surgery under general anesthesia for selected procedures. It established some of the first standards for the industry, resulting in rapid growth in the number of ASCs. In just six years, there were 67 ASCs across the United States (US).
The 1980s were a landmark era for ASCs. In early 1982, they received a much-needed lift when Medicare approved payment for approximately 200 ASC-led procedures. Later in the decade, the number of ASCs in the US soared to 1,000, and Medicare implemented a new payment system for the centers, which remains in use today. In the 1990s and 2000s, ASCs grew rapidly in the number of approved facilities and how many procedures they performed.
Today, ASCs can perform more than 3,600 Medicare-covered procedures. In 2020, nearly 6,000 Medicare-certified ASCs treated three million beneficiaries.1 Based on an industry-wide study, ASCs continue to perform more than half of all US outpatient surgical procedures. And they can expect to perform an even larger percentage as the number of outpatient procedures is predicted to increase an estimated 15% by 2028.2
According to a 2021 article published in Becker's ASC Review, the ASC market is projected to reach $33 billion in value by 2028.3

The eight key aspects that the report highlighted were:
The US ASC market is expected to see a 6.9% compound annual growth rate through 2028.
Increased disease prevalence and the demand for quick, low-cost care will drive market growth. According to the report, 60% of adults in the US have chronic diseases, such as heart or orthopedic conditions, which may be treatable in ASCs.
The ASC market was worth $30 billion in 2019 and is expected to reach $33 billion by 2028.
The Northeastern region of the US is expected to generate the most ASC revenue, at $5.4 billion, and have a 6.8 % compound annual growth rate over the next seven years. The public's increasing awareness of ASCs and large geriatric populations are driving growth in the region.
The Western region of the US won't be far behind, with an expected 7.7% compound annual growth rate through 2028, driven by an uptick in chronic disease among its residents.
Freestanding ASCs will likely generate revenue of nearly $15 billion in 2021, which is expected to grow to $24.5 billion by 2028.
Single-specialty ASC revenue is expected to grow from $13.4 billion in 2021 to $21.8 billion in 2028.
The largest national ASC chains include United Surgical Partners International, AmSurg, Surgical Care Affiliates, SurgCenter Development, Surgery Partners, Regent Surgical Health, ASD Management, PE GI Solutions, and Ambulatory Surgical Centers of America.
Services available at ASCs have been growing consistently – from 200 procedures approved by Medicare in 1982 to nearly 3,600 in 2018.4 While ASCs cover many specialties, more than 70% of the procedures performed are for gastroenterology, ophthalmology, orthopedics, and pain management.
The 20 most frequently provided ASC services: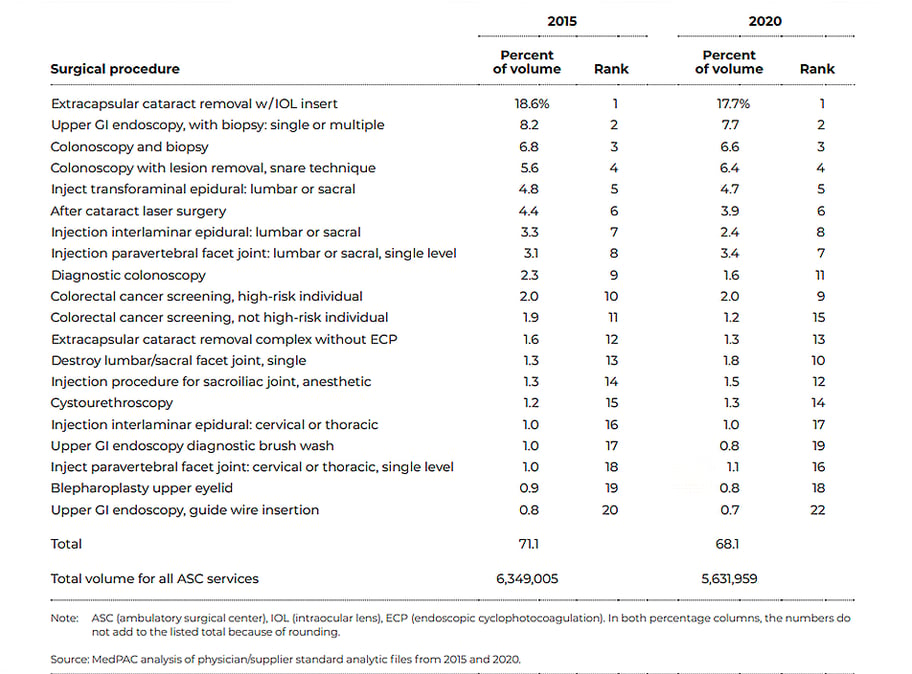 ASCs have been a top preference for HCPs and patients for years, and they provided much-needed support for outpatient procedures while hospitals were focused on the pandemic.

Here are some of the factors that will shape the future of ASCs over the next few years:
Backlog: COVID-forced cancellations of elective surgeries created a massive backlog of procedures, but with increased vaccination rates, patients are returning to hospitals for their long-overdue surgeries. While hospitals are becoming efficient at managing COVID flare-ups, they still have limited capacity. A shortage of nursing staff further exacerbates this. With new surgeries and the backlog, capacity is becoming an issue that will take a while to ease.

HCPs are suggesting ASCs as a viable option for patients having procedures approved to be performed at an ASC. As a result, more volume is being routed to these centers.

This increased volume has a direct impact on device manufacturers' revenues. Companies are seeing better quarterly performance due to expansion into new care sites. For example, Johnson & Johnson's first quarter 2022 results mentioned strong performance in joints, hips, and knees due to new business in ASCs.


Margins: ASCs are credited with providing a best-in-class surgical experience at a fraction of the cost of procedures performed in hospitals. On average, Medicare pays ASCs 58% of the amount paid to a hospital for performing the same services. In addition, patients typically pay less coinsurance for procedures performed in ASCs than for the same procedures in the hospital setting.4

While ASC procedures benefit the patient and the payer, the margin available to medical device manufacturers is limited on devices sold to ASCs. More device makers are expanding into new buying centers with competitive pricing that will further drive down those margins. Selling to ASCs will therefore add complexity to device manufacturers' business models.


Download Report - "How Regulatory Changes Are Driving The Future Of The Medical Device Industry"



Competition: The ASC market is consolidating and becoming more competitive due to the interest of hospitals, health systems, physicians, and insurers. In addition, there is a booming influx of new investment from private players and investors. For example, Tenet Health spent more than $1.1 billion to purchase over 86 SurgCenter Development ASCs.5 As more and more players recognize that the future is in outpatient surgery, existing players must keep up with the added challenge of talent migration and retention.


Policy Changes: Advancements in technology, superior surgical techniques, and regulatory updates have facilitated the movement of complex surgical procedures to the ASC. However, for the momentum to continue, it needs to be properly aided by beneficial policy updates. For example, the Centers for Medicare and Medicaid Services supports bundled payment models to reduce rising medical costs. This means a standalone ASC is paid a set price for the procedure performed, regardless of the cost to the ASC. Such policies negatively impact ASCs' profitability and, in turn, hinder their ability to provide quality care.

In 2021, new procedures were added to the list of those eligible to be performed in an ASC. However, policy changes in 2022 reversed many key provisions from previous years, and some procedures were put back on the in-patient only list. Such sweeping changes expose ASCs to potential patient volume loss, billing errors, and revenue cycle challenges that can impact potential income.



Impact on Commercial Ops
With ASCs fast emerging as a new buying center for most device manufacturers, sales leaders must assess how this growth impacts their reps and their go-to-market strategy. Below are some of the critical factors device manufacturers may want to consider as they incorporate ASCs into their selling model:
Companies should define the appropriate segmentation for ASCs and accordingly provide sufficient targeting.

Sales leaders must ensure that new care sites are properly aligned. Similar to hospitals, ASCs may also be part of large chains, making it essential to identify their affiliations and be sure that reps provide sufficient coverage.

As ASCs drive more volume and revenue, they will alter the balance of existing sales territories. Sales leaders will have to rebalance the territories or carve out new ones to manage sales reps' overall workload and provide equitable opportunities for all reps.

ASCs have a high level of control over their surgical practices and buying decisions. Unlike hospital settings, where most purchases are made by purchasing agents, value action committees, and various administrators, surgeons are the front-line decision-makers in ASCs and have substantial control over the instruments and equipment they want to use. Sales leaders must create value statements for their products that resonate with surgeons. At the same time, reps must be trained to master the nuances of delivering value statements to individual surgeons rather than hospital buying teams.

Sales cycles in ASCs tend to be shorter than in hospitals because surgeons have more influence on buying decisions. With repeat purchases and varying needs, sales leaders must plan for more frequent touchpoints with ASCs to keep them engaged.

As ASCs continue to deliver sizable revenue, sales leaders must reassess their customer base and identify market opportunities, including them in upcoming sales planning cycles as they adjust goals for their sales reps.

As ASCs become new buying centers, sales leaders must amend their sales crediting rules to ensure the right reps get credit.

ASCs are price sensitive. Medical device manufacturers may receive lower equipment sales revenues than hospitals and other buying centers, so sales leaders must take due care in adjusting the reps' incentive plans. They must keep reps motivated while also generating adequate revenue for the manufacturer.

In conclusion, the growth of ASCs opens up a whole new target segment for medical device companies. They need to consider the implications of ASCs in their sales performance management and commercialization strategies. As the need for low-cost surgical alternatives grows, ASCs will continue to increase the number of routine surgeries they perform, freeing hospitals to focus on more complex surgeries. Companies like Stryker, with dedicated teams to help HCPs plan, set up, and operate their own ASCs, already have a head start.6 Other companies that can identify and capitalize on these opportunities will help shape this dynamic market.

Learn More - "The Evolving Landscape Of MedTech For 2023 And Beyond"
REFERENCES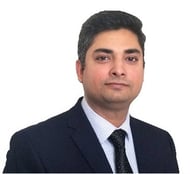 Written By:


Mohit Tandon
With over 13 years of experience in sales performance management in the healthcare and medical device spaces, Mohit Tandon has worked across the entire spectrum of sales performance management activities on the Axtria SalesIQ™ platform. His focus on the medical device domain with various Fortune 500 clients and his deep understanding of sales operations functions have been critical in the rollout of large-scale global implementations. Mohit has an MBA in Marketing and Finance, B. S. in Mathematics, and PMP from project management institute.