S

tates Feeling Budget Pressures Due to Expanding Medicaid Enrollment
Economic recession effects induced by state and local public policy responses to the COVID-19 pandemic (according to the pathway outlined below in Figure 1) have dramatically increased enrollment in Medicaid programs nationwide. A recent article in The Wall Street Journal (WSJ) noted projected enrollment for the fiscal year ending in September 2021 would rise to about 8.2%, with state spending increasing by 8.4% (compared to 6.3% growth in the previous year), according to data compiled by the Kaiser Family Foundation.1 The cost of Medicaid was already a significant portion of state budgets prior to the pandemic, increasing from about 21% in 2008 to approximately 30% in 2018, noted in the same WSJ article with data from the National Association of State Budget Officers.1 Two reasons for this increase were the lingering economic effects from the Great Recession (December 2007 – June 2009) and the expansion of Medicaid eligibility (people less than 65 years old and an income less than 133% of the Federal Poverty Level (FPL)) through the Affordable Care Act (ACA) starting in 2014.2 The federal government paid the full cost of Medicaid expansion in the first three years, with states beginning to cover some costs of the expansion in 2017, and settling in at 10% (90% being the federal portion) in 2020 and thereafter.2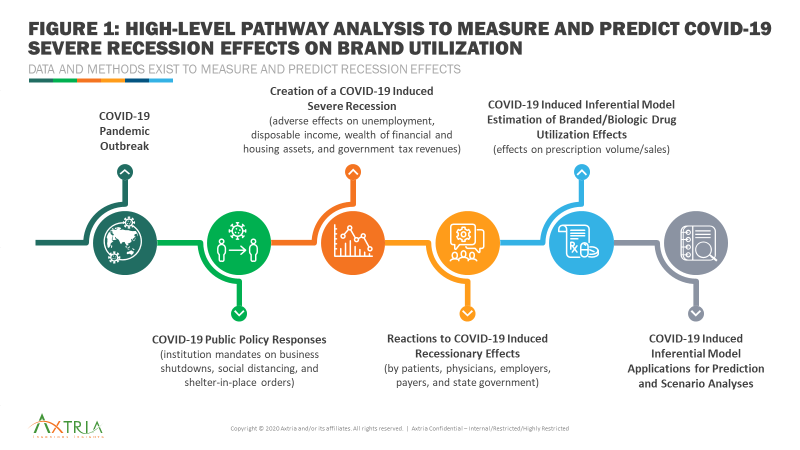 Source: Axtria Inc.
The high level of unemployment caused by the COVID-19 induced recession has meant a significant loss of health insurance (market access effect) for workers, coupled with a reduction in personal income (affordability effect), as outlined in Figure 2 with people moving to Medicaid. Further, as also noted in Figure 2 and highlighted in the WSJ article, states are now looking for cost-cutting measures to reduce Medicaid spending on budgets hard hit by the recession.1 Such cost-reduction measures include reducing benefits and services and decreasing payments to doctors, which will have the effect of fewer physicians wanting to see Medicaid patients.1 Patients with lower access to physicians will mean a lower likelihood of receiving a prescription, thereby decreasing drug utilization through this payer channel. A more direct effect of reducing drug spending, as outlined in Figure 2, is simply for states to enact tighter formulary restrictions that limit the utilization of branded and biologic drugs.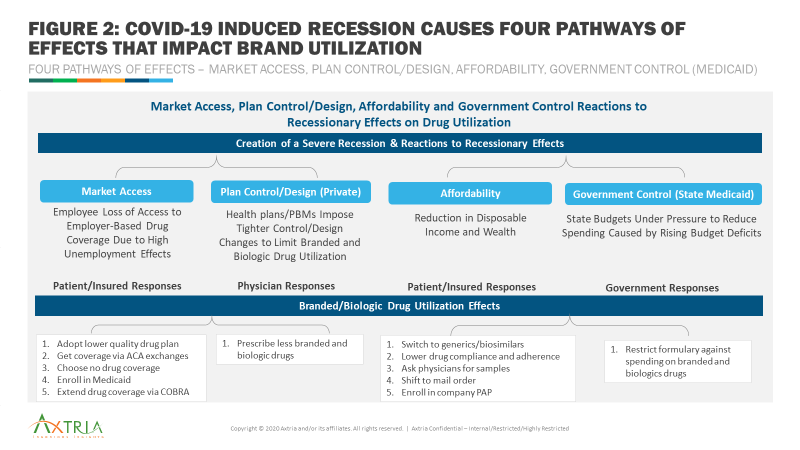 Source: Axtria Inc.
The problem of state funding for Medicaid is also not going away any time soon. Moody's Analytics has estimated the US state budget gap from 2022 through 2022 to be around $434 billion.1 Thus, continued cuts in benefits and services, access to physicians, and formulary restrictions limiting utilization of innovation branded and biologic drugs will be an on-going concern for this economically distressed population relative to commercially insured patients. The health services research literature has been concerned over the years regarding the disparity of low-value care delivered to Medicaid versus commercially insured patients.3 Further budget cuts in Medicaid spending and restrictions to quality care and pharmaceuticals will exacerbate the health status of this socially and economically-challenged population, and in the long run, drive up healthcare costs.
Axtria's Point of View on Future Trends Affecting State Medicaid
The following key points represents Axtria's Point of View (PoV) on important effects on future trends affecting Medicaid at the state level.
Pressure on States

2021 Medicaid enrollment is projected to be up by 8.2%, as noted earlier. However, state fiscal conditions, which have significantly deteriorated from the pandemic, are not likely to be offset by increased Federal Matching Assistance Percentage (FMAP) as provisioned in the Families First Coronavirus Response Act (FFCRA) passed by Congress and signed into law by President Trump on March 18, 2020.

The effect of increasing Medicaid spending on state budgets due to rising enrollments is one reason why setting aside money for state and local governments is a big issue in current Covid-aid talks between Democrats and Republicans. While Democrats favor such aid, Republicans have argued against the aid, noting that such states having the largest budgetary pressures, mainly those controlled by Democrats, also had structural budget problems pre-pandemic.

Reversal of Trends

The first decade of the 21st century saw a huge push towards managed Medicaid and reversal of pharmacy carveout trends that was again pulling back whereby states were again favoring for fee for service.
However, budget shortfalls and increasing Medicaid rolls are going to incentivize states to buy down risk by moving aggressively towards managed Medicaid.

Benefits Design and Mid Contract Discounts

Beyond pandemic, deficit reduction and clawback possibilities will force states to tier and branch out preferred drug lists (PDLs) with aggressive negotiations and discount asks.
Independent research published by health technology assessments (HTAs) like the Institute for Clinical and Economic Review (ICER) will influence broad-based pricing true-ups as well as aggressive therapy management.
A key question is will Medicaid group purchasing organizations (GPOs) and managed Medicaid plans such as Centene, Caresource, and Kaiser, become dominant market share-moving customers?

Market Access

There will be a push for a generic substitution rate (GSR) > 90%.
More clinical edits will likely be implemented.
There will be possible capitated access programs rolled out, whereby state Medicaid may become a direct buyer for drugs.
Pharma Company Actions and Closing Remarks
The pharmaceutical industry has been moving to recognize the importance of implementing a value and outcomes-based commercial model design. The state budget challenges induced by the COVID-19 pandemic highlight the need for pharma companies to put advanced analytics to work to demonstrate the value of novel medicines that not only produce better health outcomes but also in the long run, reduce overall healthcare spending. There is a plethora of empirical evidence, such as examples referenced in the PhRMA Summer 2019 Chart Pack "Biopharmaceuticals in Perspective," on the following outcome from people on Medicaid that have access to medicines: increased use of medicines is associated with reductions in Medicaid expenditures from avoided use of inpatient and outpatient services.4-5 Pharma companies need to make the case to state Medicaid plan directors, backed by strong health outcomes and economic research (HEOR) and real world evidence (RWE) analyses, that restricting patient access to novel medicines will be counterproductive in the long run.
Axtria has the analytical and operational expertise to study market access issues, such as reducing Medicaid patient access to novel medicines, that in the long run will produce unintended consequences of greater healthcare spending that public policy decision-makers are trying to avoid. Axtria can ensure that your innovative medicines continue to get to the appropriate patients, such as those on Medicaid so that they and state healthcare systems can receive drug-indicated benefits on patient health outcomes, improved quality of care, and lower overall treatment costs.

Learn More - Axtria's HEOR Analytics Capabilities.
Follow developments on this and other important topics through articles published on the Axtria Research Hub and Axtria Blogs.
References
Armour S. Medicaid enrollment surge during pandemic leaves states looking for cost cuts. The Wall Street Journal, published online 27 November 2020, available at

https://www.wsj.com/articles/medicaid-enrollment-surge-during-pandemic-leaves-states-looking-for-cost-cuts-11606489203

.

Ward B. The impact of Medicaid expansion on states' budgets. The Commonwealth Fund, published online 5 May 2020, available at

https://www.commonwealthfund.org/publications/issue-briefs/2020/may/impact-medicaid-expansion-states-budgets#:~:text=For%20the%20first%20three%20years,than%20%247%20billion%20in%202020

.

Charlesworth C, Meath T, Schwartz A, et al. Comparison of low-value care in Medicaid vs commercially insured populations. JAMA Internal Medicine 2016; 176(7): 998-1004. doi:10.1001/jamainternmed.2016.2086. Available at

https://jamanetwork.com/journals/jamainternalmedicine/article-abstract/2525419

.

Roebuck M, Dougherty J, Kaestner R, et al. Increased use of prescription drugs reduces medical costs in Medicaid populations.

Health Affairs (Millwood)

2015; 34(9): 1586-1593.

Roebuck M, Kaestner R and Dougherty J. Impact of medication adherence on health services utilization in Medicaid.

Medical Care

2018; 56(3): 266-273.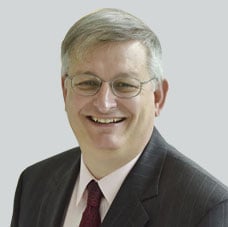 Written By:
George A. Chressanthis
Dr. George A. Chressanthis is currently Principal Scientist at Axtria, a big data and analytics company, in a newly-defined position held since his arrival in July 2016. He brings a unique combination of professional experiences into the analysis of strategic and operational issues affecting the biopharmaceutical industry. He is a former executive in the pharmaceutical industry with achievements in academia holding senior professorships in healthcare management, marketing, economics, clinical sciences, and political science.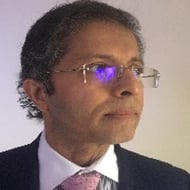 Uday Shah
Uday is part of Axtria's Decision Science Practice team. He is responsible for leading customer engagement, consulting and delivery of Axtria's expertise for all Market Access, Managed Care and Specialty Pharmacy Strategy requirements of our clients

Uday comes to Axtria with a rich and long managed care background in management consulting and strategy development experience across benefits design and development, cost containment, benefits administration and commercial strategy.