Businesses that adopt omnichannel strategies achieve 91% greater customer retention rates year-over-year (YOY) 1
Supermarket giant Albertsons sees the fruits of implementing omnichannel strategies. In Q2 2021, the Boise, Idaho-based retailer saw digital sales rise 5% (YOY) for a two-year stacked growth of 248% due to the extended reach of its click-and-collect and delivery services.2
Omnichannel shoppers have a 30% higher lifetime value than those who shop using only one channel.3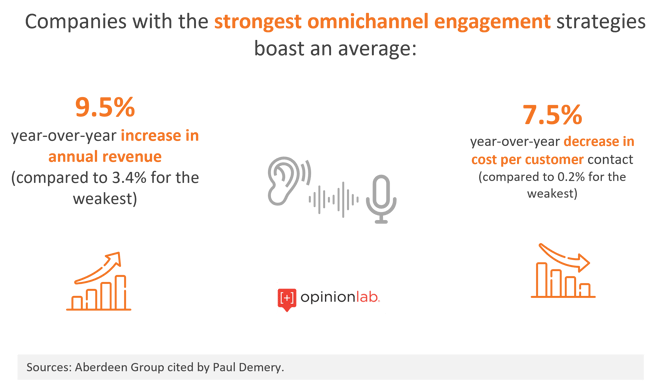 The interplay of communication channels – website, email, video, podcast, social media, mass media, and interpersonal – is raging in customer and consumer markets today. Similar to the retail and travel industries, omnichannel marketing can help the pharma and life sciences companies make incremental strides in growth and reach. The numbers speak of the power that various channels hold. It is up to the organizations to effectively juggle omnichannel communications to connect with healthcare professionals (HCPs) and healthcare organizations (HCOs).
While the pharma and life sciences companies traditionally relied on face-to-face interactions and print media to connect with their customers, the COVID-19 pandemic changed how they operate. As the industry has been forced to accelerate the digital journey, supported by the changing preferences of HCPs, companies have gained confidence in building programs to coordinate digital and personal promotion. This has led to better customer experience, more efficient use of promotional resources, and flexibility in sequencing personalized messages and channels to receptive customers. The newly adopted omnichannel world has given companies access to interactive tools and methods to facilitate the sales rep and HCP interaction leading to better patient outcomes, thus giving them more flexibility to operate across geographies with a customer-centric approach.
Field teams present unique challenges in accepting AI-generated recommendations
As part of an omnichannel strategy, companies build complex architectures to manage the data from several data sources to feed into a decision engine platform run on AI models to generate next best action (NBA) outcomes for HCP engagement and content recommendations. The systems are designed to increase reach and coordinated interactions across multiple channels and increase the productivity of field and brand teams. Field teams, including sales reps, medical science liaisons (MSLs), and Key account managers (KAMs), who are used to traditional customer journeys, may be hesitant to adopt AI-generated suggestions. Field teams fear being computer-controlled and may find it demotivating to act according to the algorithm-generated decisions. Hence, implementing an omnichannel strategy does not end by simply building a system backed by next-gen technology. Its actual value can only be achieved when end-users adopt the same, which adds to their productivity. Formulating a change management mechanism to ease the adoption of omnichannel suggestions to the field teams becomes a priority to drive a successful campaign.


Key Change Management Challenges Delivering Analytics Insights to Field Teams
Challenges

Mitigations

Information Overload

Field personnel struggle to monitor and act on all the information available about their customers

Deliver insights in a highly simplified format (NBA, target lists, segments, etc.)

Trust

Outputs from analytics can feel unjustified versus their first-hand knowledge of their customers

Don't over-complicate

Fully glass-box data and algorithms

Additional validation and quality checks for automated analytics

Control

Intelligent field personnel can find it demotivating to have decisions taken for them by algorithms

Deliver informative use cases before moving to optimizing use cases

Effective communication, especially for first-line managers

Feedback mechanisms built into the delivery technologies

Workflow Fit

Greater change from their existing working patterns increases discomfort with any new service

Deliver insights into the tech platform they access most often (e.g., CRM)

Reinforce expected behaviors with managers

Incentives

Field teams can have concerns that algorithms pull them away from key informal or financial priorities

Explain how the analytics help them sell, with evidence

Align optimizing algorithms with call plans and target lists
Informative NBA recommendations gain field team acceptance much faster than controlling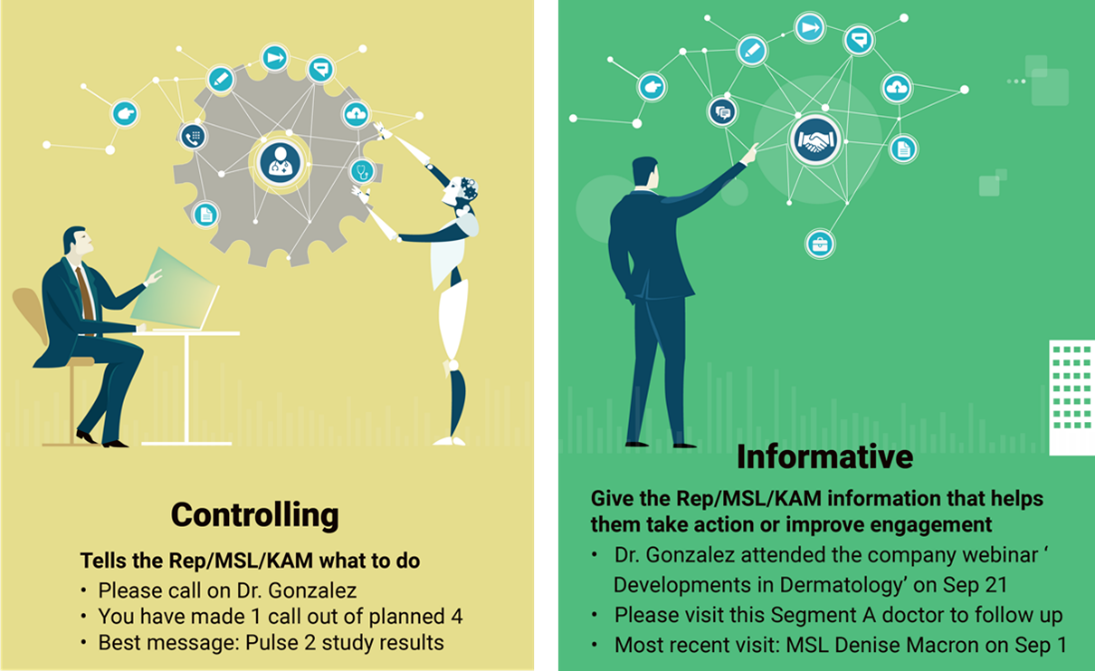 With informative NBAs, field teams feel empowered to make decisions based on their own experiences and relationships with the customers. To maximize the impact of NBA engines, field teams need to be adequately trained to interpret the insights generated and integrate them into their key activities. Behavioral training can help teams draw on their brand expertise and move away from a single-tactic campaign approach to more coherent customer journeys that leverage customer affinities and tactic sequencing principles, as recommended by the algorithm.
Similarly, field teams can apply their judgment and local knowledge to the insights generated by AI programs to adapt call timing, message sequences, and customer follow-ups to create stronger customer relationships and experiences.
Different teams and countries have very different expectations for autonomous decision-making
However, not all field teams have a similar reaction to an omnichannel decision engine implementation. Hence, the strategy for blending the field teams into the omnichannel program will differ based on region and culture. Global pharma and life sciences companies need to ensure that they do not have a one-size-fits-all approach to implementing a change management framework for field teams to adopt the new omnichannel systems. Pharma and life sciences companies need to adopt a "Glocal" framework that entails some regions adopting global processes with a local flavor.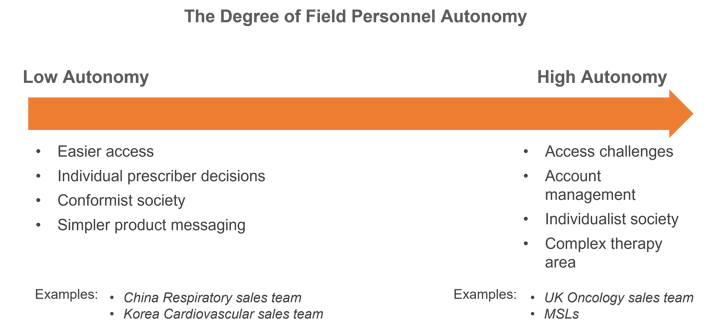 Trust becomes a significant factor in the field teams' adoption. Higher accuracy of recommendations will lead to more sales reps relying on the NBA outputs. Communication to the field teams on the omnichannel initiatives should be clear and precise based on the field teams' anatomy.

The change management approach should fit the use case types and field teams' expectations for autonomy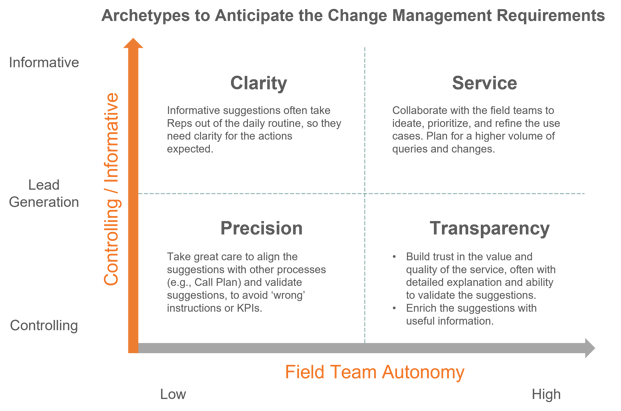 The ability to query and question recommendations without prejudice is key to fostering trust. With explained outputs, field users are empowered to make the right decisions consistently. Transparency is a critical component of trust. To maximize the impact of the NBA, field teams need to be adequately trained to interpret the generated insights and integrate them into their key activities. Operationalizing NBA decisions is complex as field teams are sensitive to changes in their processes. Pharma and life sciences organizations need to invest in a future where field teams can look at what they need to do ahead of time and anticipate future developments. Companies will gain a significant competitive edge if AI-enabled NBA suggestions and predictions support their field teams.
Axtria – a partner on your omnichannel journey
As life sciences companies embark on their data to insights to planning to operations journey, Axtria can assist them with its state-of-the-art suite of products. Be it driving intelligent, integrated, omnichannel sales planning and operations, Axtria SalesIQTM provides field teams on-the-go access to their performance metrics and call plan backed by data-driven intelligence. Deployed in global markets and utilized by 60,000+ reps, this product has demonstrated success for life sciences companies on their transformation journey.
Axtria specializes in advanced NBA-driven customer engagement solutions that formulate effective omnichannel interactions across life sciences clients. Axtria CustomerIQTM 's superior NBA decision and orchestration engines are driven by self-learning AI/ML algorithms and clean, trusted, diverse data sets that provide practical engagement recommendations complemented by an understanding of the customer's journey. Along with its suite of products, Axtria provides deep thought leadership on treading the omnichannel path with its robust change management framework to ensure a smooth transition for all the client stakeholders.

REFERENCES

Survey: Businesses That Use Omnichannel Strategies Have Far Better Customer Retention Rates in Loyalty 360 Publishing in 2014 https://loyalty360.org/content-gallery/daily-news/survey-businesses-that-use-omni-channel-strategies-have-far-better-customer
Learning from Digitally Leading Industries: Three Keys to Improve Omnichannel Engagement in Life Sciences in Pharmelive.com https://www.pharmalive.com/learning-from-digitally-leading-industries-three-keys-to-improve-omnichannel-engagement-in-life-sciences/
Omnichannel Shoppers: An Emerging Retail Reality on Google https://www.thinkwithgoogle.com/intl/en-gb/consumer-insights/consumer-journey/omni-channel-shoppers-an-emerging-retail-reality/#:~:text=According%20to%20a%202015%20study,with%20these%20highly%20desirable%20consumers

.