Real-world data (RWD) refers to points of health information collected from patients in their usual care setting rather than randomized controlled trials (RCTs). RWD comes from sources such as electronic health records, claims databases, patient registries, wearables, mobile health applications, and social media platforms. Real-world evidence (RWE), on the other hand, is the evidence derived from RWD analysis. RWD and RWE complement clinical trial data by providing valuable information on how a treatment or medical device performs in the real world. Thus, using RWE to enhance clinical trials and regulatory submissions is gaining more acceptance worldwide.
The United States Food and Drug Administration's (FDA) embrace of RWE has evolved over the past two decades. In 2001, it simply provided control group suggestions.1 By 2018, it had published a full framework for the use of RWE.2
RWE's credibility was boosted when the FDA approved Ibrance in men with breast cancer in 2016. Using data from clinical registries, Pfizer demonstrated that the efficacy and safety profile in men treated with Ibrance was consistent with women who received the same treatment.3 Three years later, the FDA approved three products for tuberculosis treatment, neuroendocrine tumors, and a breakthrough therapy for spinal muscular atrophy. In all three, the agency's "substantial evidence" standard was met using results from external trials.4
The concept of using RWD and RWE in clinical trials continues to gain prominence thanks to its many advantages:
Broader Representation of the Patient Population:
Clinical trials are regularly built with stringent rules regarding patient inclusion and exclusion, limiting the diversity of participants. RWD allows for the inclusion of a more representative patient population.
Real-World Settings:
As mentioned, RWD is collected in real-world clinical practice settings, reflecting the use of treatments and interventions in everyday scenarios. This provides insights into how drugs perform in routine clinical care.
Cost-Effective Data Collection:
Conducting traditional clinical trials can be expensive and time-consuming. RWD analysis can offer a cost-effective approach to gathering additional evidence to support clinical trial results or to explore post-approval questions.
Supplementing Clinical Trials:
Drug investigators use RWD and RWE to optimize trial design, inform endpoint selection, and identify potential target populations, making clinical trials more efficient and successful.
However, it is important to recognize RWE's limitations. RWE is typically collected retrospectively, and collection protocols may not be as rigorous as those used in a clinical trial, potentially leading to bias or confounding variables. Additionally, the patient characteristics and outcomes recorded in RWE may not be as detailed as data from a clinical trial. Therefore, researchers must use RWE in conjunction with data from clinical trials to get a complete picture of the safety and efficacy of a treatment.
Learn More - Unveiling The Key Trends And Topics: Axtria's Insights From ISPOR 2023"
Regulatory Guidelines
Regulatory bodies like the FDA, Europe's HMA-EMA (Heads of Medicines Agency-European Medicines Agency), and the Pharmaceuticals and Medical Devices Agency of Japan (PMDA) are encouraging the incorporation of evidence beyond that from RCTs. To quote the HMA-EMA, "While randomized, double-blind controlled trials will remain the reference standard for most regulatory-use cases, the complementary evidence that big data sources generate may facilitate, inform, and improve decisions."5
In March 2021, the PMDA released utilization guidelines for real-world data.6 In this report, the PMDA noted that in 2013 RWD played a pivotal role in supporting the approval of the drug tacrolimus for the initial treatment of interstitial pneumonia associated with polymyositis or dermatomyositis. In April 2021, the PMDA established a working group to solve regulatory issues with RWD.7
This past June, the EMA published a report detailing the experience it has gained in conducting studies with RWD. The report is part of the EMA's efforts, alongside the European Medicines Regulatory Network (EMRN), to enable the use of RWD in regulatory decision-making. This report consists of studies selected between September 2021 and February 2023, entitled "Use of real-world evidence in regulatory decision making—EMA publishes review of its studies."8
How can we leverage RWE in clinical trials?
RWE's emerging acceptance and the broader availability of RWD are bringing a paradigm shift to how we conduct research, design studies, collect data, and provide care. Some of the emerging trends in the potential use of RWE in clinical trials include:
Master Protocols – A unifying study design which, in the words of the FDA, is "a protocol designed with multiple sub-studies, which may have different objectives and involve coordinated efforts to evaluate one or more investigational drugs in one or more disease subtypes within the overall trial structure."9 Master Protocols are an efficient clinical trial design strategy to expedite the development of oncology drugs and biologics.

RWD sources such as electronic health records (EHRs) and claims databases can aid in identifying suitable participants for various arms of master protocol studies, making patient recruitment more targeted and efficient.

Comparing clinical trial outcomes with historical RWD can provide insights into the performance of new interventions in real-world settings, enhancing the interpretation of trial results.


Pragmatic Trials – Large, simple trials designed to include a diverse patient group, all participating within their own settings (at home, in their primary doctor's office, etc.). These trials are also randomized by site or patient. Pragmatic trials will capture a wide range of therapy result data; most of it will be patient-centered.

For pragmatic trials, RWD can help define more inclusive patient populations, making the trial more representative of real-world patients.

RWD can facilitate randomization and allocation of interventions by leveraging real-world patient data, promoting trial feasibility and external validity.

Decentralized Clinical Trials (DCT) – Data is directly collected from the patient, which may eliminate the need for a clinical trial site. Decentralized clinical trials are those where some or all of the trial-related activities occur at locations other than traditional clinical trial sites10, including local healthcare facilities or inside the patients' homes.

Through remote monitoring, RWD streams from wearable devices, mobile apps, and EHRs can allow continuous patient monitoring, enhancing safety and efficacy assessments.

RWD-driven remote patient engagement tools can improve protocol adherence and retention, ensuring high-quality trial data.

Synthetic Control Arms – In any trial, some participants are placed into a control group. In the case of a pharma trial, a control group receives the normal, standard level of care or a placebo. They are then compared with the group trying a new therapy, and the results are weighed against each other. With the growing acceptance of RWE, a new approach has formed: researchers can gather healthcare evidence that has already been recorded, from medical records, claims data, patient-generated statistics from wearable devices, and more. Combined, this already-existing data forms the synthetic control arm (SCA). This removes the need for an entire group of control participants, especially placebo-arm participants. Eliminating that standard therapy arm cuts the cost of a trial massively. It also helps to create an ethical trial design by removing the need to give placebos to patients with life-threatening diseases (e.g., oncology, where placebos are known to be inferior treatments).

Opportunities Abound
As the industry moves more toward DCTs, the number of data sources will expand exponentially. And with it, the need to analyze all that varied and complex information. According to analysts at Future Market Insights, revenue for clinical data analytics totaled $12.3 billion in 2021 and will grow at an astonishing CAGR of 25.7%, ultimately reaching $150.6 billion by 2032.11
Learn More - Real-World Data-Based Simulations: Generating Medical Evidence From Clinical Trial And Real-World Data"
Conclusion
Overall, RWD is fueling the digital transformation of clinical trials, and many of the listed use cases fit very nicely alongside one another. Using RWD/RWE in pragmatic trials, decentralized trials, as a synthetic control arm, and in data-driven protocol design has undeniable advantages for drug sponsors: they increase efficiency and reduce overhead expenses. But they also provide a much welcome "human touch." They allow patients to participate through their own medical providers, in a trusted environment, without compromising data integrity.
Also, it is crucial to recognize the limitations of RWE. It is typically collected retrospectively and may not be as routinely collected as traditional trial data, which can lead to bias or confounding variables. Additionally, RWE may not have the same granularity of patient characteristics and outcomes as clinical trial data. Therefore, researchers must use it in combination with clinical trials to get a broader view of the safety and efficacy of a treatment.
To measure the success of a therapy, you need results. You need to know what worked and what did not. In the past, that came from traditional trials. Now we finally have a clearer picture by including real-world results. RWD and RWE are not replacements. Instead, they are another tool in our arsenal. They supplement, fill data gaps, and expand efforts in hard-to-research diseases. They have the potential to be lifesaving. And in the end, that is our industry's ultimate goal: better patient outcomes.

REFERENCES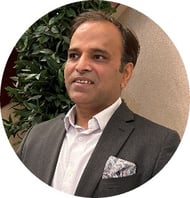 Written By:


Sunil Agarwal
Sunil Agarwal is Principal and Head – Clinical Excellence Practice at Axtria. He leads digital transformation and improvement programs for top pharma companies across solutions including next-gen clinical platform, patient analytics, and automated regulated submissions. He has also spearheaded business function consolidation and technology modernization programs. As a thought leader, Sunil has shared his expertise at several international life sciences forums on emerging topics such as mHealth, clinical data sciences, and AI/ML. He is an active contributor to analyst and advisory briefings. Sunil holds M.Tech and B.Tech degrees in Computer Science from Dortmund University, Germany.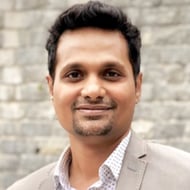 Shekhar Thumake
Dr. Shekhar Thumake is an accomplished clinical domain professional with 15+ years of experience. He is a medical graduate, MBA with a specialization in Clinical Research, Data Science, and Business Analytics. He brings extensive experience of clinical trial data acquisition practices across multiple EDC systems, reporting, and visualization strategies using industry leading reporting and business intelligence tools. He demonstrates a strong knowledge of CDISC standards, CRF/non-CRF data handling practices, and associated regulatory requirements. His focused interest is improving clinical trial data insights practices and enhancing efficiencies in accessing, managing, and reporting of clinical data across different sources including real-world data. He promotes leveraging modern data analysis concepts and technologies to help stakeholders take accurate, data-driven business decisions.