Impact of COVID-19, current multi-channel adoption and benchmarks, Omnichannel maturity, and post-COVID Omnichannel strategy
SURVEY BACKGROUND
2020 was an unprecedented year for pharmaceutical and medical device companies, along with the broader healthcare ecosystem, as they have been at the forefront of the battle against COVID-19. While these companies were ramping up manufacturing to ensure supply of personal protective equipment (PPE) kits, oxygen, ventilators, and medicines despite country-wide lockdowns and accelerating vaccine R&D and clinical development, they were also struggling to engage with their customer base (i.e., physicians). There were multiple factors for this lack of engagement – the most important being the inability of sales reps to visit and meet the physicians, severely limiting the effectiveness of this personal face-to-face (F2F) channel. This element was evident and a recurring theme in our conversations with our clients throughout 2020.
Most of our clients were asking the same questions, such as:
How is the industry driving customer engagement during the pandemic?
What are some of the benchmarks (pre-COVID and during COVID)?
How will the "post-COVID new normal" look?
What are the best practices and new approaches to continue to effectively engage with the physicians?
Axtria decided to undertake a large benchmarking exercise to answer these questions and help our clients understand where they were in their journey, and provide the required thought leadership needed to ensure they have a future-proof Omnichannel customer engagement strategy. We interviewed client stakeholders on their thoughts, plans, and actions across various sales force planning workstreams (e.g., segmentation, call plan generation, call plan refinement, and Omnichannel capability development).
Survey Scope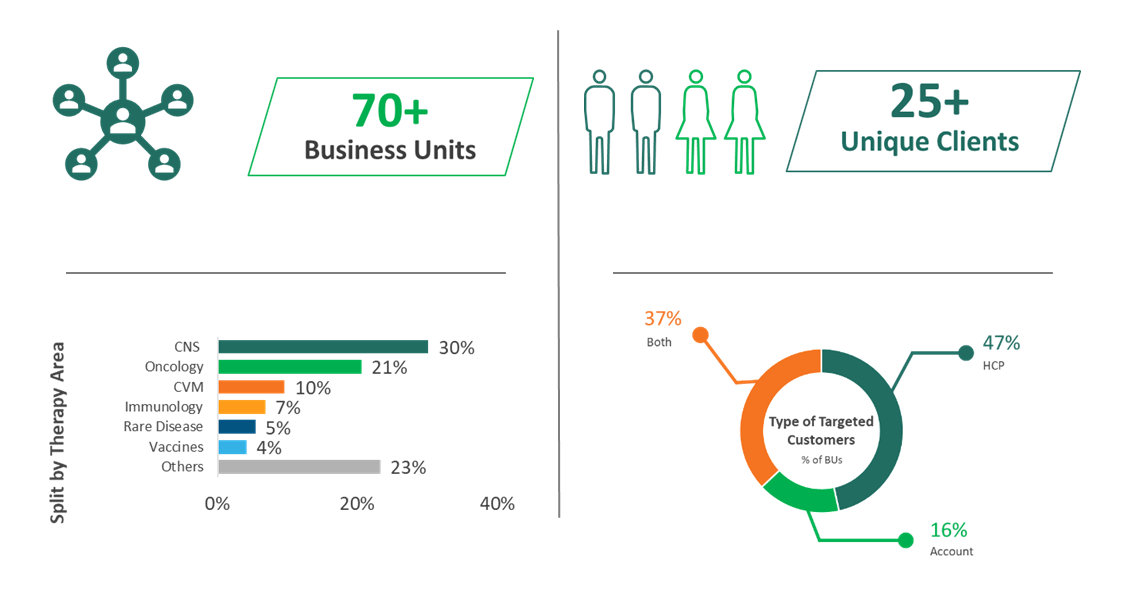 SURVEY OBJECTIVES
Understand how organizations approach customer engagement planning and execution, specifically during and in the "post-COVID new normal."
Explore the implementation of Multi-Channel Call Planning (MCCP) approaches and organizational adoption.
Collect detailed benchmarks on segmentation, targeting, activity planning, and field execution.
Understand Omnichannel maturity and organizational readiness.
A SAMPLE OF THE FINDINGS
Reach declined by 15% and F2F interactions by 75% for HCP and Account Targets due to COVID-19.
Most business units do not offer Next Best Actions (NBA) – automated trigger-based recommendations.
While clients want to adopt MCCP to align with HCP preference and counter COVID-19 imposed restrictions, there are many issues related to data availability and integrity that need to be addressed.


INITIAL RECOMMENDATIONS BASED ON THE SURVEY
Leverage thought leadership partners to drive Omnichannel capabilities development.
Leverage next-generation field force effectiveness capabilities to gain a competitive advantage in the market.
Develop advanced analytics capabilities and provide tangible benefits to drive adoption.
Continue to invest in customer data platform capabilities to streamline and support future Omnichannel/NBA capabilities and insight generation (integration of marketing and sales promotion data).
Involve the field in innovative approaches to ensure strategy alignment and collect necessary data for planning.
"Axtria thanks all the participating client organizations and stakeholders for spending time with us and sharing valuable information and insights. As a thank you, each participant receives the complete detailed survey presentation and a one-on-one readout session.
Contact us at insights@axtria.com