---
The digital media industry with its low barriers to entry, unlimited inventory, automated trading systems and rapidly shifting consumer habits is vibrant and rapidly evolving. Consumer adoption of innovative digital models and development of new marketing technologies and applications to deliver advertisements has given digital publishers across media industry segments, options to supplant the rather spiralling revenues from traditional media inventory. This blog will delve into insights to help digital publishers investigate strategies and models which would help them compete more strategically and generate the incremental dollar in the wake of already formidable competition like Google, Facebook, Yahoo, among others.
The digital advertising market is relatively new and attracting high levels of demand and market acceptance. While display advertising has been successfully adopted by advertisers, marketing via new digital advertising channels such as mobile, native, social media and digital video, is still not as well established and proven. The market compulsion to be present across all emerging areas started forcing advertisers and digital publishers to rely on a complex ecosystem of multiple technology and service providers. Over a period of time this ecosystem, both on the buy and sell side has become complex to navigate, lacks transparency and needs to be constantly monitored for business viability. New technologies, industry standards, shorter product life cycles and changing customer access models continue to challenge every move of digital publishers.
There is a strong need for business leaders and digital publishing strategists across the media industry to identify the impact of these potentially disruptive technologies and respond to the tectonic changes to make an impact.
Digital Media: Trends Impacting The Ecosystem
Developing successful digital media properties generally requires high levels of investment, talent and innovation as well as the ability to predict technology trends, market and consumer needs. The growth of connected devices, smart phones and tablets, has created newer avenues of growth as have new advertising formats like mobile, native and video ads.
Over the next few years, we will see the next major evolution in the way digital media companies will transform the way content is created, consumed and monetized, driven by the new business models created primarily around mobile, social and data.
At the same time, marketers are now leveraging a wide set of structured and unstructured consumer data from multiple sources to evaluate impressions and buy it in real time. These technologies are giving an opportunity to marketers to personalize messages, measure and analyse audience interactions. This in turn allows marketers to shift marketing dollars to mediums which offer more transparency and lifts the campaign goals. Publishers and marketers are adopting software solutions that effectively connect the demand with supply transparently, and in real time. For instance, according to research firm IDC's 2012 CMO Tech Marketing Barometer Study , technology CMOs estimate that 8.7% of their total marketing program budget will be spent on marketing IT.
The Five Force Challenge for Digital Media Companies:
As the media landscape is embracing digital and mobile technologies, digital media companies are now facing a series of challenges to operate and thrive in the new business environment:
1. For traditional publishers, growth is stagnated or declining. Traditional media companies' offline and digital products are facing significant competition for advertising revenues and audience eyeballs. While readers are moving to digital, the revenues from digital haven't substituted the traditional media revenues as audiences have become increasingly ad blind, fragmented and prefer to consume free content.
On the other hand, digital has considerably reduced the entry barriers to create ad-supported websites that provide news and information for free. Aggregators, social media websites, mobile applications and innovative customer-focused applications have replaced print media as the primary source of news and information. The advertising industry has also shifted its focus from offline advertising toward digital advertising, which is more measurable, affordable and relevant to its audience. These changes are drastically impacting revenues, resources and appetite of traditional publishers to invest in emerging technologies.
2. The nature of ad inventory represents another challenge as it puts more pressure on publishers to balance control over inventory and opportunity to monetize remnant inventory. The nature of ad inventory is shifting from static silo ad units to interactive, real time ad units with precise targeting options. For example, Twitter enabled advertisers to target relevant audience based on a variety of factors, including a user's Interest Graph. The Interest Graph maps interests based on users followed and actions taken on twitter, such as Tweets created and engagement with Tweets. Publishers who fail to segment audience and establish intent of audience are at an increasing risk to lose cost leadership.
3. Programmatic buying and selling of advertising is changing the way advertisers and publishers buy and sell digital media. As technology and inventory became more stable, advertisers are familiarizing themselves with automated buying ecosystem, and are increasingly using RTB's to reach audiences. By 2015, according to the IDC forecast , more than one in four display ad dollars will be spent via real-time bidding (RTB). RTB spending is expected to follow the same trajectory in other European countries.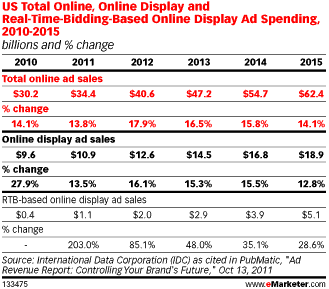 The supply side is also making a transition to have similar inventory available to the buyer side systems. Specific initiatives include a global rollout of NewsCorp programmatic advertising exchange and the Turner Premium Xchange. Such private market places are aimed at cutting out third-party ad networks from accessing publishers inventory and offer programmatic options directly to "trusted partners" across the portfolio of sites.
4. Measurement is another disruptive force which has a direct impact on ad revenues. Measurement will shape the perception of advertisers about a publisher's ad inventory and impact the media budgets. Publishers are adopting custom measurement metrics suited for their inventory and are trying to persuade advertisers on the worth of their inventory and unique advantages it can offer.
A Comscore study of 12 big brands found that 31% of the 1.7 billion ad impressions sampled in its study were never seen by their intended audiences. To make the online advertising measurement more transparent, publishers are increasingly adopting the IAB's proposed viewability standard of at least 50% on screen for one second or longer.
The current pricing standard is "served impressions," and advertisers are charged for ad impressions regardless of the fact they are seen by users or not. The new measurement standards will shift the pricing models and make the system more transparent and accountable.
Some of the initiatives to alter measurement include the widely successful Google Active view ad unit. Google Viewability Metrics prove viewable ads are 21 more times likely to be clicked.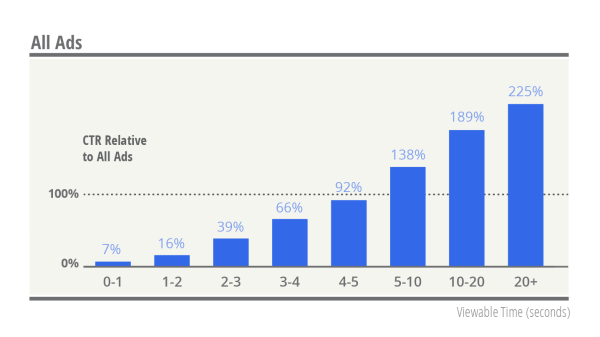 Measurement companies and some of the publishers are constantly proposing new metrics like ComScore vGRP and Google Active GRP. While these standards are not widely adopted, the new measurement metrics can impact publishers of all sizes on how ad inventory is fundamentally valuated. The emergence of new advertising standards will clearly define what a valid display ad impression is and creates a more transparent display advertising environment. With the advent of these standards, brand advertisers can really measure what they are actually buying and will find it easier to increase investments in display ads.
5. Data will be critical for publishers to deliver the advertisers' campaign goals. The continuing increase in global online activity generates massive amounts of data like location details, carriers, previous exposure to marketing messages, social network activity, search queries and purchase activities that can be collected and analyzed to provide valuable insights for business. Publishers are increasingly making it easy for advertisers to analyze data and make decisions in real time especially given the dramatic drop in computation and storage costs. This data is empowering advertisers to allocate and measure their marketing investments more effectively using marketing automation tools. Publishers are also using consumer's social data in improving engagement. For example, Zappos Users can enter a pinner or board name and PinPointing recommends Zappos products that are similar so they can easily purchase that product.
From one dominant OS (Windows) and device (PC), the digital world is moving into a fragmented landscape of Operating Systems and devices. The shift from PC to mobile, from single to multiple screens with abundant computing and storage has opened many opportunities for digital media companies. In mobile operating system space for example, Android took less than three years from inception to reaching number one share of the global mobile market. The new ecosystem is also allowing publishers to capture ad share in a short span of period.