Welcome to Axtria's blog series on sales strategy and operations. This series will examine a 'year in the life' of sales operations. In the process, we will highlight the major 'seasons' throughout the year as the annual cadence goes through a strategy, planning, implementation, tracking and measurement processes.
Several of us here at Axtria have spent much of the last two decades working with sales operations teams across many industries and in dozens of countries. Our hats go off to you … you are some of the most dedicated, hard-working and underpaid professionals in business.
While there may be no 'typical' sales organization or sales operations team, we have noticed a definite cadence to the sales ops year. True veterans know that Memorial Day marks the pre-budget planning window, Labor Day is the beginning of the year-end sprint, Thanksgiving is just an afternoon off, and holiday shopping can wait until after December 20th when files for 1/1 get shipped to vendors.
The blog series will follow the 'typical' sales operations seasons depicted in the graph below. Months of the year are along the x-axis and the workload for the sales ops team is on the y-axis. We assume that the sales force 'year beginning' is January 1.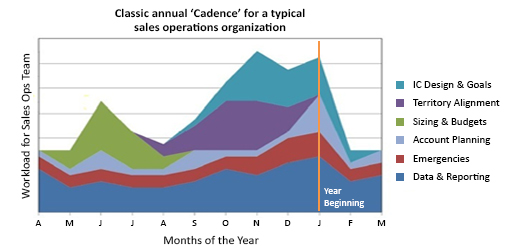 As you can see, there are several key features to the 'typical' cadence:
Unending work managing customer/sales data and reporting …
… plus, dealing with (equally constant) emergencies
Planning season in spring that precedes the annual operating budget cycle. This planning season is typically marked by evaluating the sales force size, structure, and effort allocation
Beginning Labor Day, the unrelenting rush for the 1/1 year beginning, when everything needs to be synchronized for the new year. Major work items include territory realignments, incentive plan adjustments, goal setting, preparation for the year beginning, and so on.
As part of this blog series, we will point out global 'best practices', common pitfalls, and 'pressure relief valves' that world-class sales operations teams use to manage the overwhelming workload.
In the meantime, if you are in sales ops and feel you're working too damn hard, contact us here to compare notes. I bet we've seen or felt your pain and would be delighted to help.