Before companies can reap the full benefit of omnichannel investments, it is crucial that people in the field force are ready to accept and adopt the changes that omnichannel and next best actions (NBA) will bring. Sometimes, these adjustments have been met with resistance from the field force, resulting in low user adoption and occasionally failed programs.
Life sciences companies have invested heavily in digital marketing and omnichannel orchestration programs over the last few years, making it possible to connect with healthcare professionals (HCPs) in a harmonized manner. Despite growth in such non-personal channels, field force still receives the majority of spend, and many MedTech companies are spending on sales forces at a similar rate as life sciences companies.
When NBA programs are correctly implemented, they have proven to be cost-effective, improving the sales reps' customer interactions. This article describes concepts and frameworks to understand and anticipate omnichannel adoption challenges. This will help design both the program roadmap and the change management approach to gain buy-in from the field teams.
FIELD TEAMS PRESENT UNIQUE CHALLENGES IN ACCEPTING AI-GENERATED RECOMMENDATIONS
To drive the omnichannel strategy, companies invest in complex architectures that manage many data sources to feed the decision engine platform. In the past, field teams, including sales reps and key account managers (KAMs), trained for years to visit doctors face-to-face and follow fixed messaging guidance, making them hesitant to adopt AI-generated guidance.
There is more to implementing an omnichannel strategy than building a system backed by next-gen technology. Companies achieve actual value only when end-users adopt the recommendations, increasing productivity. Formulating a change management strategy, to support field team adoption of omnichannel suggestions, becomes a priority to drive a successful campaign.
The framework below outlines the common concerns and challenges the field force encounters while implementing an omnichannel design, along with recommendations for change management. Using this framework makes it possible to address any concerns about the critical dimensions and to facilitate omnichannel acceptance.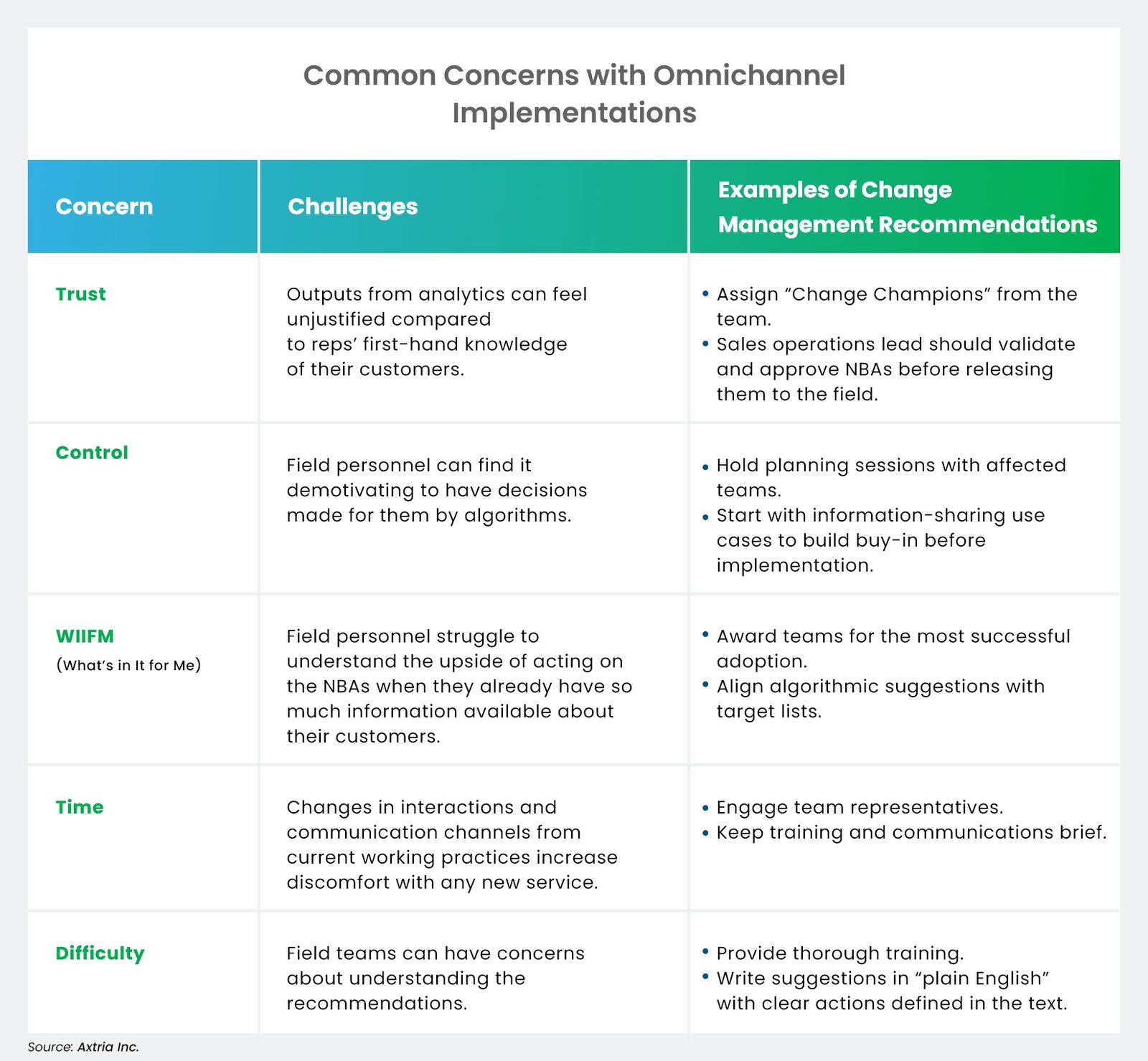 INFORMATIVE NBA RECOMMENDATIONS GAIN FIELD TEAM ACCEPTANCE MUCH FASTER THAN CONTROLLING RECOMMENDATIONS
As shown in Table 1, the main concerns field teams have about NBA and other forms of omnichannel orchestration are trust and control.
NBAs that dictate the field teams' interactions regarding who to meet, and when, can feel controlling. Field teams can be suspicious of recommendations that seem to be provided without proper rationale; they feel like computers are micromanaging them. Feelings of mistrust and a lack of control in their working lives impacts their motivation.
To counteract that, give field teams the reasoning behind the NBAs. And allow them to make decisions based on their personal experiences and customer relationships. It is also essential to tailor the algorithm to provide less directive actions, if the goal is to avoid recommendations that seem too controlling.
Provide options - Suggest multiple options for the next action, to avoid being prescriptive.

Field team knowledge as input – Base the recommendations on input from the representative. For example, if a representative has rejected a recommendation to call on a specific customer because he can't get access, don't recommend a call to this customer again.

Recommendation vocabulary: avoid words like "must," "have to"; instead, use "recommend," "suggest," "option," etc.

Explain the outputs - Provide the rationale and benefit for each recommendation.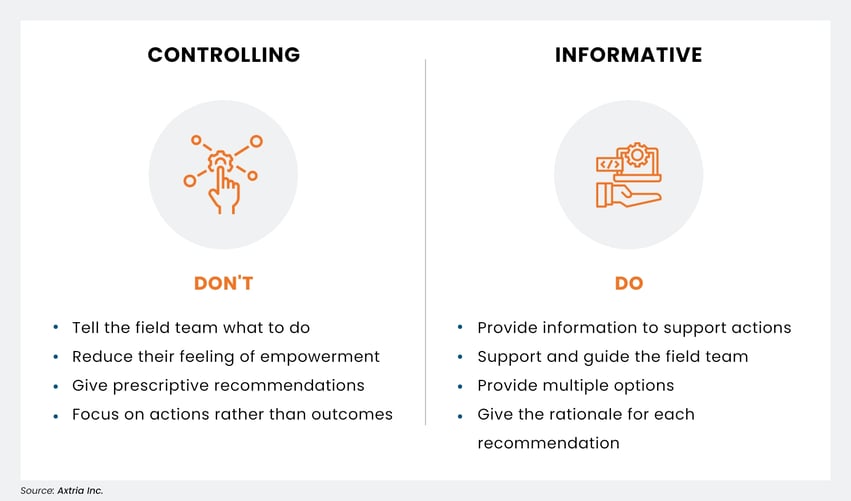 DIFFERENT TEAMS AND COUNTRIES HAVE VERY DIFFERENT EXPECTATIONS FOR AUTONOMOUS DECISION-MAKINg
Not all field teams will react to an omnichannel decision engine implementation the same way. The strategy will differ based on region and culture. Communication with the field teams should be clear and precise, and the engagement approach should match the field teams' work culture.
Some regions may place more emphasis on executing management direction. It is important to make the requested actions extremely clear in any NBA suggestions, targeting, or messaging guidance. At the other extreme, highly trained and experienced teams such as medical science liaisons (MSLs) typically have a lot of autonomy (within compliance rules) for how they engage medical professionals. When this is the case, field personnel should participate in the design, so that they gain detailed understanding in the algorithms and processes before they trust and accept the change.
THE CHANGE MANAGEMENT APPROACH SHOULD FIT THE USE CASE TYPES AND FIELD TEAMS' EXPECTATIONS FOR AUTONOMY
In conclusion, it imperative to construct the program to gain maximum acceptance of the field force. Implementing informative recommendations, while sharing the rationale, will produce a higher adoption rate. If the recommendations are perceived as controlling, not only will they be less likely to be accepted, but they can also impact motivation and retention.
Transparency is a critical component of gaining the field force's trust in the program. Well-explained outputs empower them to make the right decisions. To maximize the impact of the NBAs, field teams also need adequate training on interpretation of the generated insights, and how to integrate them into their core activities.
This is a complex task because field teams are sensitive to changes in their processes. Care must be taken to listen to their concerns and input. They should be reminded that no matter how much effort is put into a new program, NBAs are not a replacement for the reps' experience. Rather, it is another valuable tool in their quest for better patient outcomes.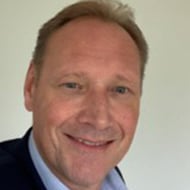 Written By:


Klas Eriksson
Klas Eriksson is a Principal at Axtria based in Switzerland. His 25+ years of experience produce unrivaled client advice in strategic commercial decisions, product ownership, and global solutions. Klas' expert background in analytics and services delivery helps clients drive change, insights, and efficiency. Klas has proven success in consulting, sales operations, and delivery services on both sides of a partnership: as a valued team member in top pharma and data companies, and as a key player in consulting companies such as marketRx/Cognizant.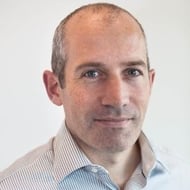 Charles Rink
Charles Rink is a Principal, Omnichannel Capabilities Lead at Axtria. He has over 20 years of experience in strategy consulting, technology, and analytics for the Life Sciences industry. Based in London, he brings extensive experience advising clients in commercial strategy, analytics automation, and omnichannel operations globally.