Across all industries, brands connect with their prospects and customers through many different communication channels. Such interactions over various channels collectively influence customer purchase decisions and are essential in increasing brand loyalty. By engaging with their audience and communicating the right message to the right customer at the right time, sales and marketing leaders are constantly trying to:
Deliver the best possible customer experience

Increase retention and customer lifetime value (CLTV)

Expand the overall customer base
Customers take unpredictable and complex journeys as they encounter messages on different channels, filtering the communications to engage or ignore, and search for or request information when they have more pressing needs. It can be challenging to track all these steps in their individual journeys and impossible to predict the journeys with any detail. The life sciences industry uses sales and medical personnel, either remote or in-person, and leverages specialist suppliers for promotional campaigns, nursing services, medical information, and more. Compared with the most common digital marketing tools, email, company websites, and programmatic advertising, these newer channels take more effort and time and require less granular control over targeting and timing.
"Customers are taking control of how they engage with companies."
Omnichannel marketing aims to improve the coordination of messages and timing while acknowledging that no life sciences company can achieve perfect tracking, planning, and execution of the recommended actions.


What is omnichannel marketing?
"Omnichannel marketing is the integration and cooperation of the various channels organizations use to interact with consumers, with the goal of creating a consistent brand experience."1
Omnichannel marketing aims to create a consistent brand image across communication channels and coordinate activities to improve the experience for each consumer. These programs continuously capture and analyze the customer journey and respond quickly with relevant messages communicated over appropriate touchpoints to make the most of the limited customer attention span. When companies identify a customer's needs, either from a request or an event that the company can spot in the data stream, omnichannel programs enable companies to respond swiftly and diligently to the customer and improve their experience.

https://insights.axtria.com/blog/the-rise-of-omnichannel-and-the-five-key-factors-impacting-its-successful-implementation

Across many industries, omnichannel marketing has driven significant business results. Here are some real-world observations of its impact:
Businesses that adopt omnichannel strategies achieve 91% greater year-over-year (YOY) customer retention rates vs. companies that don't.2
Omnichannel shoppers have a 30% higher CLTV than those who shop using only one channel.3
Companies with robust omnichannel engagement strategies boast an average 9.5% YOY increase in annual revenue and 7.5% YOY decrease in cost per customer contact. 4
In the life sciences industry specifically, omnichannel marketing promises similar benefits.
"An omnichannel life sciences customer experience can lead to healthier patient lives over time."
Life sciences companies can expect high prescription rates and better sales and marketing returns by carefully interweaving personalized messages across a customer's journey. In a typical healthcare professional's (HCP) journey toward prescribing a drug for the first time, a precisely orchestrated omnichannel marketing plan would look like the diagram below.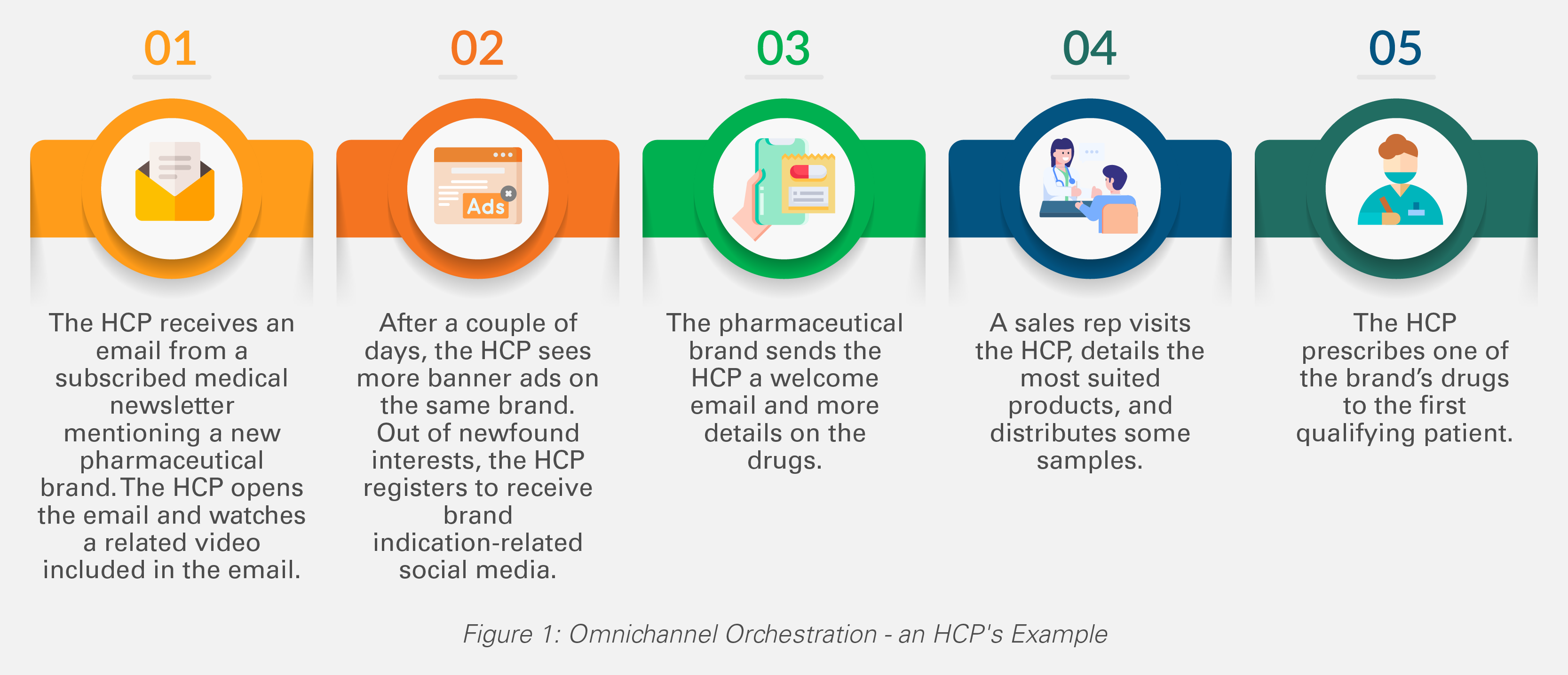 What are the challenges in designing an effective omnichannel program?
While some industries, such as retail and hospitality, have pioneered omnichannel orchestration, others are at various early stages in omnichannel adoption. Axtria's survey on the Sales Force Customer Engagement Planning and Execution5 confirms that life sciences companies struggle to implement a fully orchestrated omnichannel program. While most large pharma companies optimize multichannel marketing mix strategies, some are at the initial stage of omnichannel implementation.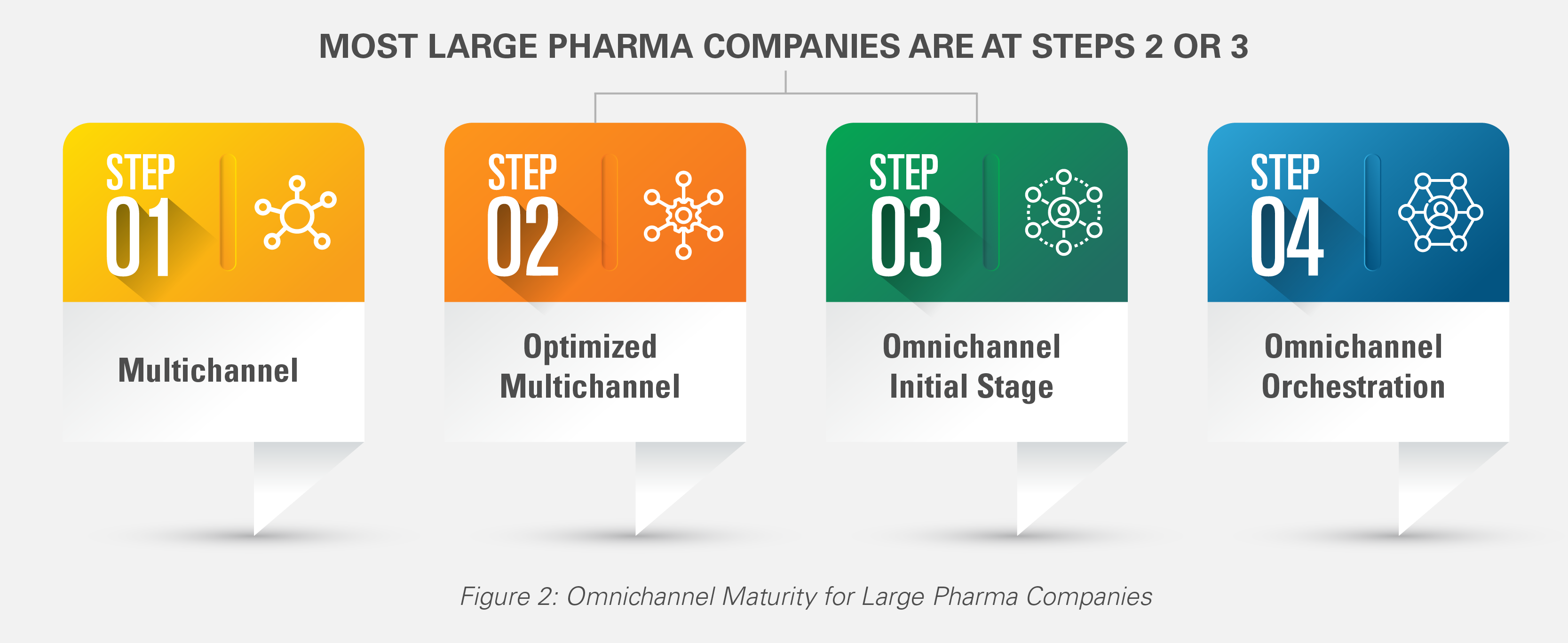 Despite successfully managing multichannel customer data and analytics, one of the critical business problems deterring companies from orchestrating omnichannel marketing at scale relates to the degree of autonomy for channel-wise operators.
Problem statement: "Expert operators in each channel need some flexibility to respond to customer needs, distinct from the central omnichannel optimization service. This is especially true for customer-facing teams."


Learn More - "Orchestrating Omnichannel Measurement To Enable Outcomes-Driven, Personalized Campaigns"
Degree of autonomy for channel-wise operators
In any sales and marketing organization, decision-making precedes operational execution. While brand managers are responsible for well-informed strategies, operators across multiple channels are the experts who transform that strategy into action. Expert operators in each channel need some flexibility to respond to customer needs, separate from the central omnichannel optimization algorithm or service. This recommendation is especially true for customer-facing teams. For example, sales reps and key account managers (KAM) are experts at engaging customers in live, personal interactions (the field team channels). Digital marketing operations managers monitor KPIs and analytics to adjust and improve live campaigns. Thus, controlling the degree of autonomy for each channel-wise operator is critical to successful omnichannel orchestration.
The role of experts operating the channels affects the design approach for the omnichannel orchestration service. Attempts to create algorithms that micromanage channel activity can run into several challenges. The people in field teams, and often marketing partners, cannot execute with the precision and timeliness that the algorithms imply. Decisions taken away from the expert operators in each channel remove their autonomy to make decisions with their unique customer insights.
Life sciences omnichannel orchestration programs operate in a federated model. This is where some actions are directed from the center, some activities are influenced by the center, and some actions are decided entirely by the expert operators in each channel. This provides a balance of the central control benefits with a provision for rapid decisions from experts in each channel.
The key to success for a federated model is an effective governance structure. The operators in the center and the channels need to understand decision-making authority and simple, automated communication tools (next best action, dynamic segments, audience lists, etc.) to coordinate activities.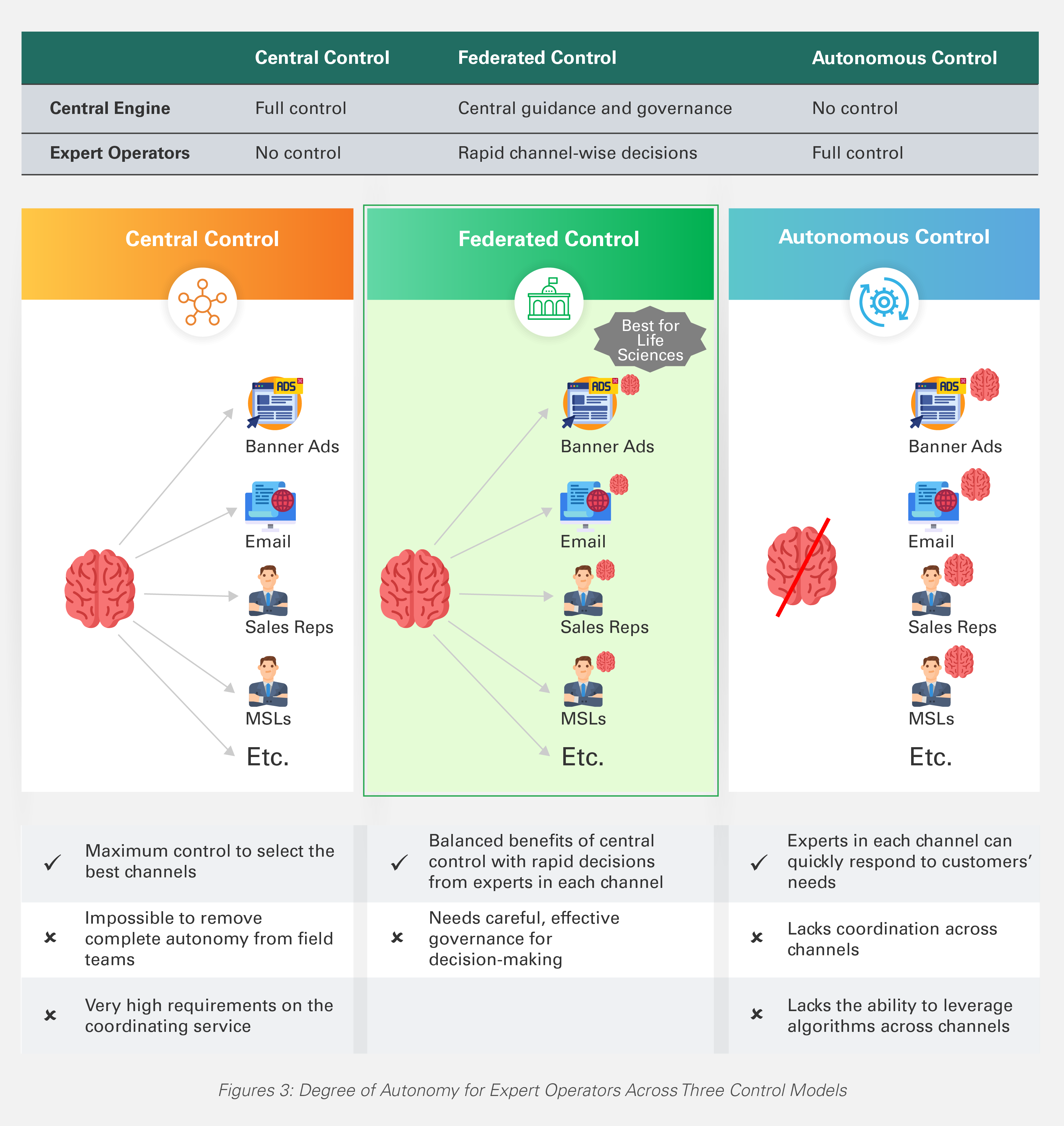 Summary
Giant online businesses such as Facebook (now Meta), Shein.com, and DoubleClick (now Google Marketing Platform) created businesses where the algorithm sits at the center of the customer experience. With the heavy reliance on field personnel as well as marketing and services partners, life sciences companies should embrace a federated control model for omnichannel orchestration to derive the best value from central coordination and the experts who operate each channel to improve customers' experience.


References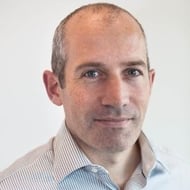 Written By:


Charles Rink
Charles Rink is a Principal, Omnichannel Capabilities Lead at Axtria. He has over 20 years of experience in strategy consulting, technology, and analytics for the Life Sciences industry. Based in London, he brings extensive experience advising clients in commercial strategy, analytics automation, and omnichannel operations globally.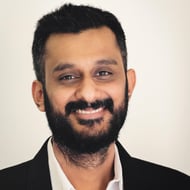 Suraj Gupta
Suraj Gupta is a Manager, Marketing at Axtria. He has over 9 years of experience in the analytics and consulting industry, with more than 6 years with life sciences. At Axtria, Suraj has contributed to sales and marketing functions, including business and client development, knowledge management, digital marketing, business intelligence, and content writing. Suraj has an MBA degree in Marketing and a graduate degree in Economics.