COVID-19 has introduced irreversible changes across the globe. As our world crawls into the new normal, the way we interact and transact may never be the same. People are increasingly adopting virtual living, and businesses across industries are redefining customer preferences in the new COVID-19-impacted world. These developments imply a learning curve and will overhaul customer engagement roadmaps for the years to come.
Amongst all others, the life sciences industry is also observing significant changes. Although COVID-19 has not drastically pivoted the life sciences digital evolution path, it has accelerated it. The during-and-post-COVID-19 landscape is not far from its pre-COVID-19 projection, as far as digitization and virtualization go. Even before COVID-19, we observed:
Healthcare Physicians (HCPs) preferring non-personal interactions and virtual media for engagement.

Marketing and sales organizations are moving beyond traditional channels and exploring multiple customer engagement touchpoints by including various digital media.

Data defining commercial strategies as it revealed more insights about customer behavior and preferences. Data siloes were considered a deterrence.

That the commercial planning and execution sphere believed the future to be more virtual, with companies planning for an all-encompassing omnichannel marketing communication strategy.
Meaning, even before COVID-19, some commercial organizations were preparing for the "digitally-savvy customer of the future" and discussing necessary foundational changes in their customer engagement planning and execution strategies.
To gauge the pandemic's impact on life sciences commercial organizations, Axtria performed a dipstick analysis to measure the industry's maturity to survive the during-and-post-COVID-19 world and better understand these changes and the projected transformation. We spoke to our customers, a credible representation of the global life sciences industry, and surveyed them on their COVID-19 experience and its role in shaping their organizations' future.
"Omnichannel engagement means to consider customer perspectives and cover all possible interaction touchpoints in marketing and sales strategy.


In the Spring of 2021, Axtria conducted the "Sales Force Customer Engagement Planning and Execution" survey. The critical objectives of this survey were to:
Understand organizations' approach towards customer engagement planning and execution, specifically in the post-COVID-19 new normal.

Explore the implementation of multichannel customer engagement, specifically multichannel call planning (MCCP), and understand organizational readiness.

Collect detailed benchmarks on the critical areas of sales force strategy – segmentation, targeting, activity planning, and field execution.

Understand omnichannel maturity and organizational readiness.




Here are some critical aspects that defined the scope of this survey:
Axtria gathered responses from 26 unique life sciences companies across 76 business units (BUs).

A BU is a collection of sales teams covering the same therapeutic area(s) with similar targeting or call plan characteristics.

Life sciences customers included large and small companies.

Large companies: 700+ sales reps and 4+ BUs

Small companies: All others

Pre, during, and post-COVID-19 time frames.

Pre-COVID-19 is Q4'19 and prior.

During COVID-19 is Q3'20 to Q1'21 (some face-to-face (F2F) and virtual promotion occurring).

Post-COVID-19 is Q3'21 and beyond (post expected mass vaccination in the US).
The next part of this blog highlights the critical observations from the survey's responses. These observations sense the pulse of the life sciences companies and project their way forward. For a concise visual format, check out our infographic on customer engagement planning and execution – a survey by Axtria.


Most organizations still use traditional customer segmentation and targeting parameters

.
While change is the only constant, it is easier to recognize than implement. Even before COVID-19, despite industry-wide acknowledgment of the changes mentioned above, most life sciences organizations operated within traditional confines. The availability of advanced analytics to plan and forecast commercial processes still has a long way to be fully adopted and add value to business returns.
More than 90% of BUs still focus on the historic market and product parameters for customer segmentation and targeting. This trend applied to HCPs (95%) and account-based (88%) customers. Apart from relying on the market and product volumes, these BUs also considered other reactive paraments such as HCP specialty, behavior (for HCPs), account type, and market share (for accounts).

3 out of 4 BUs are not currently using advanced analytics techniques for segmentation and targeting or activity plan generation. For the ones that do, advanced analytics techniques include AI/ML models for customer classification.




COVID-19 severely restricted F2F customer interactions, encouraging a customer-centric multichannel call planning (MCCP) approach.
COVID-19 accelerated the pre-existing virtualization of customer interactions, as HCPs and account-based customers immediately blocked F2F interactions with sales reps. Social distancing and global lockdowns also accelerated these changes across the globe during COVID-19. As a result, the marketing and sales organizations across life sciences companies immediately pivoted towards considering channels beyond the traditional F2F.
F2F interactions dropped by more than 75% during COVID-19. With limiting physical proximity and interactions, customers preferred other engagement channels. Such tracks included phone calls, video calls, emails, online lunch and learns, speaker programs, and virtual conferences. Across both customer types, the primary shift was towards phone calls and video calls.

Despite the move towards remote channels of customer engagement, the two customer types observed varying results. In comparison, the total interactions increased with HCPs by 6% and reduced by 19% for account-based customers. It is important to note that for account-based customers, a decline of 19% is still commendable ahead of the overall 84% drop in F2F interactions – the shift towards virtual channels absorbed most of the COVID-19 shock on customer interactions.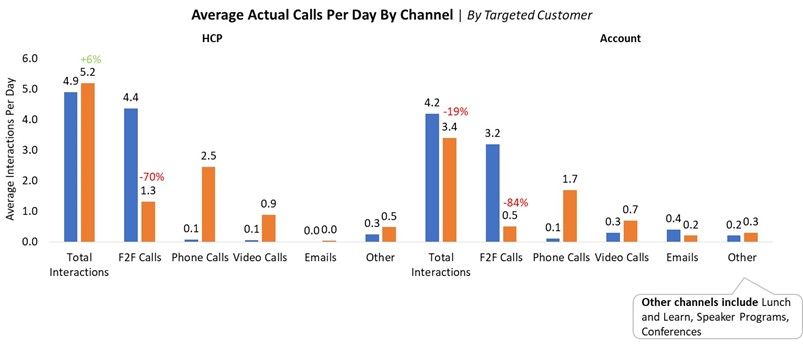 To support the shift towards newer channels and build on this transformation in the future, 58% of the BUs either added new data sources for their customer segmentation process, applied innovative approaches to generate call plans, or did both. This move is a step in the right direction and adds credibility to life sciences companies' movement towards a customer-preferred channel mix. The new data sources include HCP access and geo-mobility data, and innovative approaches include adjusted channel effectiveness evaluation and prioritized field insights.

During COVID-19, the respondents have substituted 17% of the F2F channels with phone and video. The respondents plan to replace 20-30% of the F2F interactions with virtual promotions in the foreseeable future. This trend will leave nearly 70% of planned customer engagement efforts to in-person interactions.
Pre-COVID-19

During COVID-19

Post-COVID-19

F2F

100%

83%

70%

Phone

10%

16%

Video

7%

14%

% Channel allocation

78% of the BUs are willing to adopt a MCCP model post-COVID-19 by permanently incorporating various virtual channels. These multiple channels will include phone, video, email, remote calls, remote meetings, text, lunch and learn, medical education, and references.

Moving towards omnichannel customer engagement will need strategic partnership.
Most companies value and work towards a synergistic approach between field rep activity and non-personal channels. Although this transition from traditional interaction methods to omnichannel customer engagement is significant, calling for assisted partnership with strategic experts for most life sciences companies.
87% of the organizations have a long way to go with their data management capabilities to activate omnichannel customer engagement. 67% of the organizations are working towards the desired state of data management, and the rest are yet to start.

77% of large and small companies are taking steps but need more work to implement an omnichannel strategy. This segment includes a marginally large chunk of smaller companies, which is more prone to infrastructural limitations. 13% of companies are already benefiting from an omnichannel strategy.



64% of the respondents currently have leveraged strategic development partnerships for omnichannel transformation in the past. 32% of the companies prefer to work internally with platforms. Only 18% of the companies have all their work internalized and streamlined. These figures indicate the importance of omnichannel-enabling platforms and the value of strategic expertise in the life sciences industry.
COVID-19 has helped the life sciences industry to reconsider the inevitable – omnichannel engagement for a virtually active customer. Traditional channels are not likely to be entirely replaced with new-age ones, but their allocation is being reconsidered. While most companies have started working towards this vision, a fraction has made it on their own. It is critical to recognize and prioritize the foundational pillars of a lasting customer engagement strategy – streamlined and integrated customer data, advanced analytics-driven customer insights, forward-looking commercial planning, and customer-sensitive operations execution. That said, the appropriate strategic partnership will ensure focused planning and help guide companies toward futuristic recommendations.