Recall that this blog series focuses on Sales Operations, and hence the sales force. However, one cannot consider the sales force in isolation.
Over the past several decades, we have experienced a proliferation of channels, including direct sales, mass media advertising (think Mad Men), direct mail, telesales, online/digital, email, social, mobile etc. Each of these channels has advantages with respect to efficiency or effectiveness (topic for another day), often work well in combination, and should be tailored to the chosen business and marketing strategy.
Let's spend a minute to clarify some semantics that may be helpful:
| | |
| --- | --- |
| Marketing Strategy | Marketing Strategy involves "WHO" you will go after and "WHAT" you will offer them |
| Value Proposition | Value Proposition refers to "WHY" a customer should buy from you, also known as a unique session proposition |
| Go-to-market (GTM) Strategy | Go-to-market (GTM) Strategy is the "HOW" component of marketing strategy. GTM encompasses the CHANNELS that a company uses to connect with its customers and organizational PROCESSES it develops to guide demand generation and demand fulfillment |
| Marketing Channel | A Marketing Channel is a set of independent organizations involved in the process of making of making a product r service available for use or consumption. Most companies use a mix of direct and indirect (i.e. brokers, agents, distributors, VARs, etc.) channels, and creating an optimal channel strategy is a topic for another day. |
Punchline: The sales force is but one channel or lever to implement a chosen marketing strategy ( ... sorry sales folks, but yes, marketing should make the broader marketing strategy decisions).
For many years, we have used iterations of the following framework (affectionately called the 'octopus') to help bring 'order to chaos' in helping clients define their go-to-market strategy for the sales organization. (By the way, we assume product, value proposition, marketing strategy have been already decided). The framework simplifies the sales organization's GTM Gordian knot into a few simple questions:
What customers do we serve ?

What work needs to be done ?

How should we approach the market ?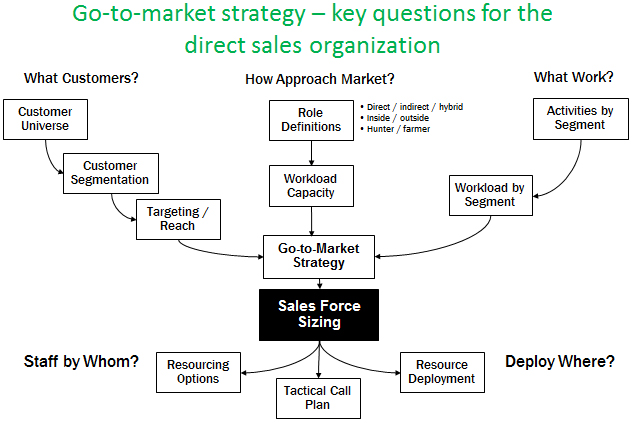 Let's explore each of these major questions a bit more. For those of you familiar with the Axtria team, you'll know that we take a very data-driven, quantitative approach to these questions.
What Customers to Serve ?
The essence of this question is a clear definition of the customer universe coupled with a good customer segmentation scheme.
Customer universe:

Pardon the pun, but sometimes you must scour the universe for a reliable data source for a customer universe. Some war stories that delivered break-through value include:
Cold calling the National Institutes of Health for a database of NIH research award recipients for a European laboratory equipment manufacturer looking to enter the U.S. market

Appending a B2B client's entire customer database of 2.5 million active accounts with the D&B's data to identify which 10 million US businesses were NOT active customers

Licensing a national database of 120 million US households, appending 20 million in-force customers for a Fortune 500 insurance company, in order to develop a comprehensive customer & prospect master

Creating physician or hospital level databases too numerous to count, in order to support the commercial operations of life sciences companies with sales forces from 4 to 12,000 sales people.

Click

here

to share a war story
Customer Segmentation:

Since not all prospects and customers are created equally, you must segment based on needs, behavior, profile attributes, potential, etc. We will discuss segmentation in other blog postings. Segmentation for sales strategy purposes should consider factors such as:
Market potential sufficient for investment of direct sales effort

Buying needs that must be addressed by direct sales

Overlap of purchases
Sales Targeting & Reach:

Coverage decisions must be based on the ability to deliver the needed work at a profit to a given customer segment. We'll cover this in much greater detail in

sales force sizing

postings.
What essential work must be done to serve customers ?
Customer segments will have various needs from a direct sales channel. As a rule, one should seek to deliver services by the lowest cost channel(s) that will differentiate yourself from competitors while satisfying the customer need.
For example, selling to a hospital or factory floor often involves (at least) two very different but essential work types:
Carpeted floor – the 'business' sale to financial and contracting gatekeepers

Tiled floor – the 'technical' sale to users
Both must be addressed in sequence or in parallel, one-time or continuously. In addition, you will want to estimate the amount of work needed to penetrate and provide ongoing sales coverage to each customer segment type.
How to approach the market ?
In addition, consider the selling roles needed to deliver the work to the customer segments. At Axtria, we prefer to do the customer universe and essential work legs FIRST. This 'data' provides insight to the roles that you should consider. We frequently see harried sales strategy & operations teams take the shortcut to only consider conventional selling roles (hunter, farmer) and miss innovative opportunities (clinical informatics consultant, auto retail consultant) that win clients' hearts and bedevil competitors.
Conclusion
As you click these items together (What customers ? What work ? What roles ?), they become a single go-to-market ("GTM") scenario with quantifiable outputs such as number of customers reached, sales resources required by role, total cost of sales, revenues generated by the sales resources, and incremental profits. In developing a go-to-market strategy, literally hundreds of scenarios may be evaluated and then optimized. We'll discuss more of this evaluation + optimization process in future blog posts.
What additional questions do you feel are essential for a sales organization's GTM strategy ?
Does your go-to-market strategy answer these questions ? or do you have new, unanswered questions ?
Please contact us here to compare notes, we'd love to learn more about your business.

Learn More - Implementation A Successful Global Market Segmentation & Targeting Strategy