The Growth of Digital Investment
Pharma's investment in digital marketing has grown significantly in the last few years, fueled by the proliferation of new channels, post-pandemic changes, and evolving customer preferences. Digital direct-to-consumer (DTC) media spending has surged 45% in the last year.1 Paid advertising, websites, and social media are the biggest gainers, especially in the US market. And social channels such as Doximity, LinkedIn, and X (formerly Twitter) in the US, WeChat and DXY in China, and Line in Japan have gained popularity for HCP outreach.
Thanks to this rapid evolvement of the digital environment, customers now choose how and where they want to connect to you in a unique and on-demand manner. They interact with multiple channels at each stage of brand adoption, resulting in unique, non-linear journeys. That means we must ensure an outcomes-driven approach to measuring and optimizing omnichannel campaigns. Traditional approaches have several problems, including siloed measurement across online and offline channels, non-availability of granular datasets, lack of in-campaign analytics, and more.
Learn More - "Why Is Balancing Autonomy Critical To Driving Omnichannel Orchestration At Scale?"
Solving the Traditional Measurement Problems
To address these challenges, we propose building a holistic omnichannel measurement capability, combining various analytical approaches at different cadences to enable outcomes-driven campaigns. These analyses rely on the availability of harmonized datasets from in-house and agency sources.
For more, please read our article
The Fundamentals Matter - Foundational Priorities for Omnichannel Success

We present three fundamental approaches which, when executed in tandem, provide critical inputs for strategic and tactical decision-making.
Omnichannel Planning with Marketing Mix 2.0
Marketing Mix (MMx) modeling traditionally measures the performance of sales and marketing investments, integrated across brands and portfolios. It is a seasoned approach, having been in use for decades, and is typically performed annually or bi-annually. However, with the advent of omnichannel and expanded digital marketing, we have seen increasing demand for more sophisticated recommendations to bridge the gap between strategy and execution. This is MMx 2.0, and it is driving new outcomes, including:

Generating granular, personalized recommendations at an HCP or account-level instead of a national or sub-national level,

Measuring the return on investment (ROI) of digital tactics at the granular publisher level instead of an aggregate level,

Measuring the true impact of channels by modeling interaction effects and channel pathways,

Performing analyses more frequently to understand ongoing performance in an evolving environment,

And driving global impact by ensuring a data-driven approach towards omnichannel planning across multiple brands, franchises, and geographies.

These outcomes are achieved by leveraging fit-for-purpose modeling techniques such as hierarchical modeling, Bayesian regression, breakout modeling, and pathways analysis. Additionally, a solution-based approach is needed to run these analyses in a highly configurable, standardized, and automated manner. Axtria has worked with multiple clients to provide globally scalable, cloud-based solutions that enable a swifter transition to MMx 2.0 and, ultimately, omnichannel personalization.

In-campaign Optimization Through Attribution Modeling
With investments in digital campaigns gaining traction across HCP and patient populations, in-campaign measurement and optimization have become imperative. However, traditional approaches mainly rely on KPI-based channel performance without a view of the customer journey across channels.

Axtria recommends combining the traditional approach with attribution modeling to assess the performance of digital channels in an integrated, real-time manner. Attribution modeling takes a bottom-up approach by looking at the customer journey and allocating credit to each touchpoint in the customer's media path to conversion. It complements MMx analyses by providing a near-real-time, customer-centric view of digital channel performance.

Axtria further recommends multi-touch attribution modeling using machine learning techniques such as Markov chains, Bayesian networks, and neural networks instead of traditional heuristic methods such as first-touch, last touch, or others.

For one of our global biopharma customers, we recommended a combination of MMx and multi-touch attribution modeling to get an early read on their DTC campaigns for a new indication launch. This included the introduction of new digital tactics, such as social media and display ads, to reach a broader target audience. Through marketing mix modeling, we recommended reallocating ~10% of non-performing DTC spend (point-of-care, programmatic banner ads) to top-performing channels (e.g., paid search, paid social, online videos). This led to an increase in digitally attributable scripting by about 15%.

Through our multi-touch attribution modeling, we were able to evaluate the effectiveness of vendor-level spending across digital channels. For example, within paid social channels, Instagram outperformed Facebook in driving conversions within the 20- to 40-year-old audience segment. Thus, a multi-pronged omnichannel analytics approach provided robust strategic and tactical inputs into our client's decision-making.

Optimizing Omnichannel Programs Through Test and Control Analyses
Traditionally, test and control analyses have been used to measure the impact of point-in-time marketing campaigns, such as TV ads or medical conference sponsorships. However, we are also leveraging this technique to measure the impact of large omnichannel programs within a pharma organization. Examples include programs such as dynamic targeting, channel sequencing, and next best action recommendations and personalization initiatives. Test and control analyses help us quantify the sales impact generated by the omnichannel programs and drive optimization across various types of investments.

A leading specialty pharma client recently implemented an omnichannel orchestration program across multiple EU geographies and was interested in assessing their business impact. Axtria set up a test and control framework at the brick level to measure the sales impact across brands, geographies, and time periods. Axtria's detailed analysis revealed a 1%-3% increase across key brands; a significant uplift in sales for the client that underscored the program's success. Axtria also identified NBA use cases driving maximum impact, which led to an additional 6%-12% uplift. Our analysis framework became a valuable tool for the client's commercial excellence team to showcase impact and track program evolution over time.
CONCLUSION
With the rise of investments in omnichannel and digital campaigns, it is important to have a holistic omnichannel measurement approach that can close the gap between strategy and execution. Many traditional methods exist, but they need to be orchestrated and evolved to handle the needs of modern-day marketers. We have highlighted three approaches here: marketing mix analysis, attribution modeling, and test and control analysis. These will fill the void and ensure well-informed decision-making when executed in tandem and at the right frequencies. Implementing these analytical techniques at scale across all your brands, campaigns, and geographies can significantly impact your organization.
Watch how Axtria puts this into action. Check out our free, insightful webinar.
Orchestrating Omnichannel Measurement Approaches To Enable Outcomes-Driven, Personalized Campaigns

REFERENCES
Iskowitz M. Has media in-housing found a home in pharma? Medical Marketing and Media. March 24, 2023. Accessed September 26, 2023. https://www.mmm-online.com/home/channel/7-day-supply/has-media-in-housing-found-a-home-in-pharma/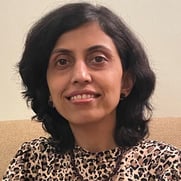 Written By:


Ritu Kohli
Ritu is a Principal in the Decision Sciences practice, managing analytics delivery and governance for several global accounts across US, EU, and APAC. She leads building Centers of Excellence for clients industrializing multiple service areas, including Marketing Mix, Patient Analytics, Omnichannel and Digital Analytics, Sales Force Sizing, and Brand Analytics at Axtria. Ritu has 19 years of leadership experience in Data and Analytics consulting and technology solutioning across life sciences and Hi-tech industries. She brings deep expertise in Commercial and Digital Analytics, Patient Outcomes, and Data Science to drive strategic problem-solving and digital transformation initiatives for clients.