As we navigate into another year with a still-significant number of COVID-19 cases, we now have a better understanding of the virus' impact on the MedTech industry. Some short-lived effects revolve around returning to the old "normal." But for companies that rely on performing medical procedures, long-term consequences will fundamentally change how they operate. The eight significant changes MedTech companies may witness in 2023 and beyond are highlighted below.

Global Supply Challenges: COVID-19 has caused an exceptional disruption in the global life sciences ecosystem. What started with potential manufacturing challenges due to containment measures slowly gave way to rising shipping and raw materials costs. The situation became so grave that we saw a ten-fold increase in shipping costs between major seaports. That further reduced margins in an industry already witnessing a significant decrease in the number of procedures and increased cancellations of elective surgeries.

Global semiconductor chip shortages will continue to cause delays, impeding the go-to-market strategies of many companies planning to develop robotic-assisted surgeries. Additionally, well-established companies in this sector will see slower growth mainly due to manufacturing and delivery delays. While the future of robotic-assisted surgical devices looks bright, COVID-19 has slowed down the pace at which the industry was pivoting to adopt these devices.


Learn More - "The Key Drivers Paving the Future of the Medical Device Industry"

Supply chain disruptions delay the delivery of finished products, leading to excess inventory buildup and the resulting operating capital challenges. To sail through this wave of cash crunch, MedTech companies must be efficient in their operations and spending. Selling, general, and administrative (SG&A) costs typically account for 25% to 35% of revenue for MedTech companies and will be an ideal place to look for optimization.1


Hospital Staff Shortages: Healthcare providers have been on the front lines of the battle against the COVID-19 pandemic. While the whole world was confined to their homes, these brave souls were fighting it out each day, risking their own lives and health.

However, this courageous battle came at a cost - burnout and fatigue - with each new surge exacerbating the problem. The already tired workforce had had enough, and hospitals started seeing increased turnover, early retirement, and movement to other, less stressful professions. This tumultuous change to the workforce is causing increased pressure on the remaining workers, creating a vicious cycle. Increased competition as hospitals try to hire and retain experienced workers is driving up wages, especially among temporary and contract nurses, adding to the financial strain on hospital systems. And staffing shortages may get even worse before they get better. Nursing schools can only teach a fixed number of new students at once, and it takes time to produce new nurses who are technically proficient.

Since each hospital has a limit to the number of procedures it performs, any volume lost due to the cancellation of elective surgeries will take some time to reschedule. We anticipate a waiting list for patients in the near future, with the severity of their procedure deciding how soon they can schedule their surgeries.


The Growth of Ambulatory Surgery Centers (ASCs): ASCs are healthcare facilities that provide surgery and pain management. They are also known as outpatient surgery centers or same-day surgery centers. ASCs provide alternative care sites for specific procedures, allowing hospitals to free up facilities and resources for other urgent procedures—a trend that saw enormous growth during COVID-19. While some of this procedure volume will return to hospitals once they refocus on elective care, the bulk of this movement might be permanent. According to Bain and Company, orthopedic, spine, and cardio procedures are expected to grow the fastest through the mid-2020s.2

Selling to ASCs leads to cost escalation for MedTech companies. Since ASCs are smaller, have lower volumes, and are more geographically dispersed, they offer lower reimbursement rates. Also, physicians at ASCs are more price sensitive than their hospital counterparts, and they have more influence on equipment purchase decisions. All of this reduces the overall sales cycle.


Learn More - "MedTech As A Service"

As ASCs generate more sizable revenues, sales leaders must consider their potential when defining a go-to-market strategy. Companies must take care when determining the appropriate segmentation for them and accordingly provide a sufficient level of targeting.


Regulatory Challenges: When the pandemic hit, the US Food and Drug Administration (FDA), like every other organization, struggled to keep up with an unprecedented workload, managing the increased number of emergency use authorization (EUA) requests. The agency is still overburdened with COVID-related tasks as it prioritizes pandemic work.

As the FDA tries to get back to its regular work routine, we expect it to refocus on the following items:



Increased Enforcement and Site Inspections - A recent uptick in the issuance of warning letters hints that the agency will refocus compliance enforcement in the coming quarters. The FDA also shared its plan to restart site inspections.


Product Reviews - Facing a huge backlog, we expect the FDA to refocus on product reviews. While it is still early in the process, companies must prepare for extended review timelines.

With new product approvals and indications picking up speed, we will see a surge in companies reorganizing their sales teams to meet new demands. Companies that sell software as a medical device (SaMD) or other app-based devices may see intensified growth as products are approved.



Procedure Volume Volatility: Procedure volume increased as the vaccination rate picked up, only to plummet again when the Delta and Omicron variants forced hospitals to cancel once again or postpone elective surgeries. As the industry heads into 2023, we will witness more procedure volume fluctuations due to new COVID variants forcing hospitals to prioritize COVID care. However, we may see these fluctuations mostly at regional levels, where localized care protocols can better manage the uptick in cases.


Whole-body Health: This is a 360-degree view of a person's health, including physical, mental, emotional, social, and spiritual factors. With the rising need for mental healthcare and its impact on other parts of the body (and vice versa), whole-body health is becoming common.

As the awareness and acceptance of mental healthcare increased during the pandemic, what also became evident was the deficiency of a siloed approach to mental health wellness. Physicians looking separately at physical and mental health conditions may need help to treat patients effectively. There will be an increasing acceptance of approaches that prioritize whole-body health wherein care providers work in a coordinated effort to treat both mental and physical conditions. This unified approach will require MedTech companies to take a new look at patients.


Download Case Study - "Med Tech, Medical Device and Diagnostic"

In light of this trend, we may also see an uptick in new apps that track patients' whole-body health. The data from these apps will be used by healthcare professionals (HCPs) to adjust the course of therapy.


Robotic-assisted Surgery: Intuitive's surgical robot, da Vinci, has been the de facto leader in this segment; however, that situation may soon change. Initially, companies in this space were focused on markets where da Vinci was not prominent. Now, we may see serious competition with several companies keenly focused on the robotic-assisted sector. The most promising is Medtronic's soft tissue robot Hugo™ which received Europe's CE mark, a license from Health Canada, and now has an FDA investigational device exemption. With several other products also under FDA review, this industry segment is geared toward increased competition.






Learn More - "The Growth Of Ambulatory Surgical Centers"



Shift to Omnichannel: MedTech companies are shifting to omnichannel models to foster personalized promotions and build stronger relationships with medical professionals to promote better care. This is even more important today since the pandemic is here to stay for longer than first expected and has fundamentally changed how we operate. The MedTech industry is now shifting from a model that revolves around sales reps to an omnichannel world in which healthcare workers can access information whenever they need it through the medium of their choice. Although reps remain at the center of this process, companies are enhancing these relationships with new resources and tools while organizing them across channels to address stakeholders' needs. A properly planned omnichannel model can augment more than just HCP engagement – it can also enhance the overall quality of care, top-line revenues, and employee productivity.


COVID-19 has completely reshaped the medical device industry—providing both new opportunities and impediments—and has forced it to redesign all aspects of its operations completely. Having directly faced some of these challenges early in the pandemic, the industry is now much better prepared to meet future challenges. With most restrictions now being lifted, the impact of new variants on medical device companies will be measured by how quickly and how well companies can respond with new services and operating models that support healthcare organizations in providing much-needed patient care.

Learn More - "Laboratory Information Systems"
REFERENCES
Trefis Team. How much does Boston Scientific spend on SG&A? [Internet]. Jersey City (NJ): Forbes; 2020 Jan 13 [cited 2022 Dec 30]. Available from https://www.forbes.com/sites/greatspeculations/2020/01/13/how-much-does-boston-scientific-spend-on-sga/?sh=26817f881266




Van Biesen T, Johnson T. Ambulatory surgery center growth accelerates: Is MedTech ready? [Internet]. Boston: Bain and Company; 2019 Sep 23 [cited 2022 Dec 30]. Available from https://www.bain.com/insights/ambulatory-surgery-center-growth-accelerates-is-medtech-ready/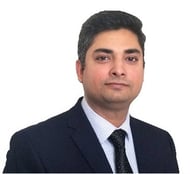 Written By:


Mohit Tandon
With over 13 years of experience in sales performance management in the healthcare and medical device spaces, Mohit Tandon has worked across the entire spectrum of sales performance management activities on the Axtria SalesIQ™ platform. His focus on the medical device domain with various Fortune 500 clients and his deep understanding of sales operations functions have been critical in the rollout of large-scale global implementations. Mohit has an MBA in Marketing and Finance, B. S. in Mathematics, and PMP and PMI project management certifications.