The life sciences industry has always been propelled by research and innovation, more now than ever, with breakthrough drug development, massive investments to expedite drug launches, and opportunities for medical advancements. To put this into perspective, let's consider the clinical development trends for the last ten years. There were more than 16,0001 assets in clinical development in 2019, and almost 1,7002 investigational new drug applications (INDs) were filed, up from 9,700 drugs in clinical development, and 1,300 INDs filed in 20103. Along with substantial investments in drug discovery and research and development, life sciences companies are also transforming in the areas of data management, business intelligence, and analytical capabilities by adopting digital transformation, artificial intelligence (AI), machine learning (ML), NLP (Natural Processing Language), and most pertinently, automation.
In the year 2019, life sciences companies, irrespective of their size, focused heavily on digitalization, cloud and IT infrastructure modernization. Most of the large-scale life sciences organizations plan to move away from traditional technology-based solutions to cloud-based scalable solutions. In the year 2020, Axtria anticipates a sharper focus on data strategy, data management, analytics, AI, and automation across clients' objectives and business use cases.

Learn More - Mining Unstructured Data Using NLP And ML To Improve Quality Of Patient Care
Top Business Drivers
Most of the top life sciences companies are scaling enterprise-grade IT infrastructure and cloud applications cutting across the business value chain, business units, therapeutic classes, and geographic areas. The following table shows the top business drivers in life sciences organizations that enable emerging technologies.
| | |
| --- | --- |
| Top Business Drivers for IT Modernization | Percentage |
| To Understand Customer Better | 73% |
| To Improve Product & Services | 72% |
| To Improve the Management Of Existing Data | 47% |
| To Create Revenue Systems | 41% |
| Necessity Of Business Model | 40% |
| To Monetize Existing Data | 35% |
| To become Leaner - Improve Internal Efficiencies | 35% |
| To Find & Exploit New Data Sources | 34% |
| For Better Management Of Governance, Risk & Compliance | 29% |
| To Improve The Detection & Prevention Of Fraud | 20% |
Top Emerging Technology Trends of 2020
To align business strategies and data-driven business decisions, life sciences companies are focusing on exploring primary and secondary research data through new-age cloud-based technology enablers, as highlighted in Figure 2.
Figure 2. Top Emerging Technology Trends of 2020
Artificial Intelligence (AI)
Artificial Neural Networks
Cognitive Computing
Natural Language Processing (NLP)
Conversational Business Intelligence
Robotic Process Automation (RBA)
Machine Learning (ML)
Cloud/Big Data
AI/ML Capabilities in Reportingbusiness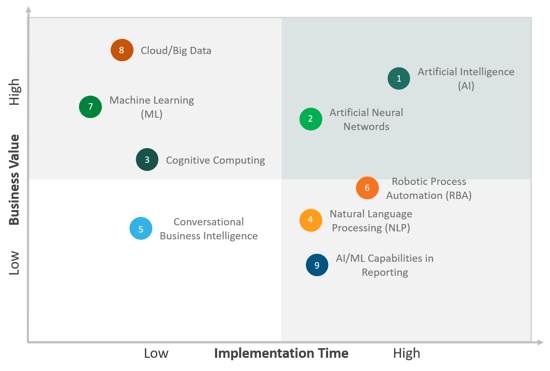 Axtria has identified the above emerging trends based on the demand in technology enablement use cases across the pharma and life sciences industries.
Top IT Use Cases Technology Trends
The below figure shows the highest-ranking IT use cases that the top life sciences companies are expected to focus on at a global scale across therapeutic areas for the year 2020.
Figure 3. Top IT Use Cases Technology Trends
Data Governance
Knowledge, Content Management & Information Portal
Data Visualization & Democratization
Reinvent Master Data & Reference Data Management
Predictive Analytics
AI/ML Based Analytics
Metadata Driven Applications
Data Quality
AI/ML Driven Operations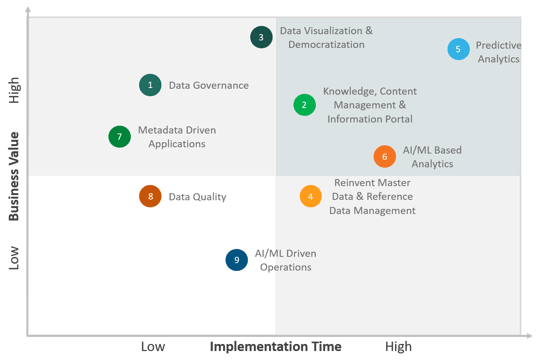 Emerging Data Technology Trends Impacting Life Sciences Industry
Continued Focus on Data Quality and Data Governance

With the rebooting of the technology ecosystem, life sciences companies are focusing on trust in IT applications, capturing data quality statistics, generating data quality reports, enabling automated alerts, and highlighting adverse impact notifications. Business users, data stewards, and even executive users are looking for any data quality alerts before relying on business dashboards. Life sciences companies are appreciating and investing in automated and configurable data quality solutions so that business changes can be easily adopted. As per an internal study across life sciences clients, it was found that several common obstacles impacting business decisions are directly associated with poor data quality, limited and manual validations, and lack of visibility on data quality.

Data governance has also emerged as a key ask from many of the life sciences organizations. With growing compliance and regulatory requirements along with regional controls, life sciences companies need to address a breath of processes such as GDPR, GxP, HIPAA, HITRUST, International Data privacy, and data provenance. All these data governance processes and controls are becoming one of the foundational business use cases to be driven in more agile, innovative, automated, and efficient ways.

Transforming Operations into a DevOps Culture

The emerging trend of AI/ML touching regular operations to enable automation-driven DevOps culture is leading to life sciences companies focusing on DevOps as becoming more technology-driven to achieve the below outcomes:

Better quality code and faster recovery from application failures

Treating technology transformations as a continuous improvement journey rather than a "big bang" execution

Establish trust with an innovation-driven culture in IT Operations

Monitor and reward cost rationalization with innovations and reinvest in more automation

Refine Data Strategy

The strategic role of data assets and value is increasing significantly because of the diversity of data assets, the kind of analysis business users and data scientists are looking forward to, speed to generate insights from data assets, and growing complexity because of data quality issues.





Life sciences organizations understand that the current ecosystem is complex and decentralized with mainly a function-focused approach, fragmentation and proliferation of siloed environments and reporting stores, and limited access to data with consistency and efficiency that constrains analytics and capability development.





Axtria has identified the following critical challenges related to data strategy:

High maintenance cost for duplicate instances

Inefficient operations (i.e., insufficient data storage and compute resources)

Sub-optimal operationalization to a diverse set of end-users hinders innovative data discovery and more in-depth insights

Inconsistent data lineage driving data quality and compliance concerns

Lack of effective reporting and analytics platform hinders data discovery and more profound insights

Federated governance for business rules, access, and security
Conclusion
Life sciences business and commercial IT leaders should consider the following recommendations to catch the wave of emerging IT trends to explore modern technologies, refined and advanced IT applications, and emerging and growing data assets.
Establish a vision for innovation and data-driven decision making.
Empower data governance approaches that allow the adoption of changing technology trends and evolving business needs.
Focusing and prioritizing data strategies and innovations to automate or augment manual activities.
Capitalize on emerging technology and IT use cases trends such as AI, NLP (Natural Processing Language), and ML.
Click here to learn about Axtria's Information Management capablities.
Watch the video to learn more about Axtria DataMAxTM - Commercial Data Management Platform.
References