The Business Case for an End-to-End Sales Performance Management Solution for a Medical Device Company
Discover how to overcome common sales performance management challenges and the improvements a medical device company can achieve with Axtria's SalesIQTM.


INTRODUCTION
Data is critical to sales performance management (SPM), and data management is the foundation of successful sales operations. Today's top medical device sales organizations have transitioned, or are in the process of transitioning, from automated homegrown and legacy SPM solutions to implementing data-driven end-to-end SPM platforms.
Organizations continually face the challenge of making their SPM programs as efficient and cost-effective as possible while also ensuring that incentive plans motivate employees to achieve sales goals. However, manual processes, complex systems, and multiple data sources can complicate operations, ultimately leading to wasted time, less efficiency, and unproductive sales reps.
Top-grade SPM solutions empower businesses to turn their data into actionable insights, enabling strategic data-driven decision-making, proactive planning, efficient execution, and sales performance optimization. They allow organizations to automate and streamline critical data flows and seamlessly integrate with other enterprise and data architecture systems. Administrators can eliminate manual, error-prone processes and integrate data from multiple sources to create a complete view of their sales performance—a single source of the truth to generate insights that leaders and salespeople can trust.
This blog illustrates how Axtria provided a top 10 global medical devices company a data management and integration solution that went beyond serving the basic incentive compensation needs of the company to allow for an end-to-end SPM solution, driving better and quicker decision-making and increased productivity.


THE PROBLEM: USE OF MULTIPLE DISJOINTED SYSTEMS LEADING TO GAPS IN DATA MANAGEMENT AND INTEGRATION OF SPM
A top global medical devices company with 1000+ sales reps did not have a unified end-to-end SPM system that:
(1) allowed data management and integration in a single system
(2) covered the entire gamut of SPM from sales planning to execution (including incentive compensation) to optimization of overall sales performance.
The company faced the following challenges with its current systems:




Establishing Enterprise-Wide Data Architecture Strategies To Deliver Value


THE SOLUTION: DATA MANAGEMENT, INTEGRATION, AND REAL-TIME DATA PROCESSING ENABLED BY AXTRIA SALESIQTM
As a solution, Axtria provided:
A Common Data Layer: Automated the integration of data onto one data layer within Axtria SalesIQTM, allowing:

Automated ingestion of all relevant data for ease of use for SPM calculations, planning, operations, and analytics.
More frequent end-to-end data refreshes from source systems, providing access to the most updated data for all calculations and reporting purposes.

Real-time processing of data edits and changes for increased productivity.

An Enterprise-Grade Platform: Used well-connected systems, enterprise-grade architecture, and best-in-class extract, transform, load (ETL) processes for seamless data integrations, data flow, and faster data processing.
THE IMPACT: SPEED, FLEXIBILITY, AND VISIBILITY OF SPM ACROSS ALL BUSINESS FUNCTIONS AND PLATFORMS
The Axtria SalesIQ™ solution provided:
A unified, one-stop-shop solution: A single source of truth for data, traceability, and trust across business functions and platforms.
End-to-end medical device sales performance intelligence: Seamless flow and connections between all commercial operations and planning processes right from roster management, alignment management through to complicated crediting rules management, incentive management, and finally allowing reporting across all SPM functionalities.
An automated process: Removal of manual intervention for data processing and changes, thus minimizing errors, increasing speed, and allowing the use of just-in-time data.


Learn More - Axtria's Strategy Consultant - Motivated sales force


KEY BUSINESS BENEFITS


Learn More - Insights-Driven Next Best Actions (NBAs) To Reduce Cardiology Surgery Time


CONCLUDING REMARKS: USE BEST-IN-CLASS SPM SOLUTIONS TO DRIVE QUICK AND INFORMED DECISION-MAKING
A single unified SPM system that enables data management and integration and goes beyond simply serving the incentive compensation needs of an organization is the need-of-the-hour. The SPM solution that organizations settle on should help them with all areas of their sales strategy–planning, execution, and optimization. Ultimately, driving better and quicker decision-making as well as increased efficiency and productivity.
Axtria SalesIQTM for SPM provides organizations with all capabilities needed to integrate, plan, optimize, reward, and inform the performance of salespeople to motivate and drive sales behaviors and grow revenue. Axtria provides a single, integrated system to manage the end-to-end processes of all aspects of SPM. It enables automation, real-time insights at the point of decision, and analytics supported by AI/ML that all business functions in sales operations can leverage.
Our team of experts is ready to help you understand sales performance data management and integration complexities. We will partner with you to provide the right solution to create data-driven strategies to drive results.

Written By:
Mohit Tandon
Mohit Tandon is Director, Commercial Excellence, at Axtria with over 12 years of experience in sales performance management for various fortune 500 clients. He has in-depth knowledge of territory alignment, roster management, call planning, incentive compensation, quota setting, and reporting. Mohit has extensive experience in the pharmaceutical, medical devices, and energy sectors, with a deep focus on project management, consulting, and change management. At Axtria, he has worked across the entire spectrum of sales performance management on the Axtria SalesIQ™ platform.

Jyoti Agarwal
Jyoti Agarwal is Director, Commercial Excellence, at Axtria. She is a cross-functional leader with over 17 years of experience in sales performance management (SPM) across multiple industries, with a focus on the medical device industry in the last seven years. She has analyzed, improved, implemented, and managed incentive compensation (IC) plans for several clients. Jyoti has a passion for delivering successful business outcomes and helping clients achieve their strategic goals by ensuring successful implementations and automation. She has co-authored several blogs on SPM and IC design and is an active participant and presenter in industry conferences (such as WorldatWork).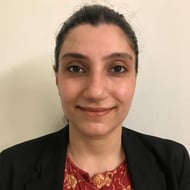 Nidhi Jolly
Nidhi Jolly is Senior Manager, Marketing, at Axtria. She has over 15 years of experience in the research and consulting industry, with about 10 years of experience working across various facets of content development, offering management, business development, and consulting services for the pharmaceutical and consumer health industries. At Axtria, Nidhi partners with subject matter experts to author thought leadership content covering data analytics, artificial intelligence, life sciences, and much more. Nidhi holds a Master of Arts in Advertising and Marketing from Leeds Business School, UK, and a Bachelor of Science in Business and Management Studies from the University of Bradford, UK.