In the last few decades, technology has advanced at an unfathomable pace. Digital and cloud-based innovations create new possibilities daily, accelerating transformation for businesses and customers. The expectations and preferences of all stakeholders are changing, and yesterday's systems and processes are no longer adequate. At this rate of advancement, future-proofing the enterprise-wide data and analytics infrastructure is critical if we are to avoid unforeseen effects on business outcomes, customer experiences, and real-world impact.
Such disruptions are most evident in the life sciences industry. As life sciences companies readjust to the post-COVID-19 world, their recent experience reflects certain realities:
Virtual interactions are here to stay.
Swift and nimble processes are adaptable and easy to manage.
Third-party dependencies can cause process bottlenecks.
Cloud data management supports information security and global collaboration.
Digital transformation has demonstrated proven business benefits.
When considering more innovative alternatives, life sciences companies must assess their current data, analytics, and operational processes. The question is: "how long will legacy systems and processes remain functional before encountering real business setbacks?" While some companies may choose to defer the inevitable digital transformation, many others are already evaluating their options.
Two major options for sustaining hybrid operations are point solutions and services from multiple vendors and ready-to-use suites of integrated cloud products. Let's understand how integrated cloud products are better for life sciences companies by assessing their benefits across the five business needs that matter most.
Data management
Reporting and analytics
Ability to self-serve
Go-to-market agility
Program governance
DATA MANAGEMENT
Data is the fuel that sustains commercial machinery. Its ingestion, harmonization, analysis, and operationalization are highly critical to the organization's success. Delayed availability, lack of structure, inaccuracy, and incompleteness are some of the life sciences companies' most common data issues. A robust data management solution is critical to ensure that analytics-ready data is available to business users across the enterprise and ready to feed into actionable insights and informed decision-making.
While working with several data management vendors, coordinating multiple data streams can be challenging. Untimely onboarding of data, coupled with many of the data issues mentioned above, can cause significant missed opportunities.
Out-of-the-box product suites can provide ready-to-use data management capabilities on the cloud, enabling timely and holistic commercial insights.

Integrated cloud products are compatible with most in-house systems, eliminating the need for third-party data lakes and other siloed integration facilities.

Equipped with a pre-defined library of business rules, integrated cloud product suites automate the otherwise manual quality checks of multiple streams, making the data consistent and ready for use by forthcoming processes.

Automated and swift data integration adds value to several analyses that can be performed by various business units across the enterprise, providing timely and meaningful insights for prompt commercial operations.
Integrated cloud products demonstrate significant efficiencies across the data management value chain, providing several benefits that make them far superior to disjointed point solutions from numerous data management vendors.
Click here to see how an integrated suite of cloud products helped implement a commercial data environment and self-service analytics for a leading biopharma company.
REPORTING AND ANALYTICS
Once a solid foundation for data management is established, it is essential to efficiently deliver and deploy the information, draw inferences, and enable the consumers to make informed decisions. Working with third-party vendors often includes several discussions to clearly define business expectations. Frequent changes in business priorities do not usually reflect well in outsourced analytics and reporting.
Integrated product suites have built-in reporting and analytics capabilities, immediately adding business value. Their prominent features include pre-defined libraries of performance indicators, persona-specific reporting views, AI/ML-driven observations and recommendations, and dynamic user interfaces. Some examples of persona-based intelligent reports can include:
Sales force field reports that track product performance, prescription behavior, and promotional responses.

Executive dashboards that track global sales, marketing, and managed market reports for business decision-makers.
Click here to read about a best-in-class sales force reporting product suite that provided insights with business-critical decision-making ability for a top 5 global life sciences organization.
ABILITY TO SELF-SERVE
Dependency on third-party vendors or internal technical experts slows the entire decision-making process. Frequent back-and-forth discussions about change management, expectation setting, and other business intelligence limitations can frustrate everyone involved. Critical analyses – including sales, forecasting, promotion, segmentation, and targeting can be streamlined by empowering business users to derive intelligent insights themselves.
Integrated cloud products are backed by industrialized analytics, bringing a no-code workspace to the table. Business users benefit from drag-and-drop modules that derive actionable insights efficiently. AI/ML-driven text- and voice-based search functionalities help users quickly find action-oriented answers without needing to learn how to use business intelligence tools. Product-based solutions deliver true self-service capabilities to decision-makers across strategic and operational organizations.
GO-TO-MARKET AGILITY
Planning and implementing go-to-market strategies for newly-launched products is a lengthy and complex project. It involves thoroughly streamlining data, analytics, insights, planning, and execution. Product launches are strictly time-bound and cannot afford delays of any kind. Outsourcing go-to-market strategies can be risky in such situations, as vendor-based point solutions are exposed to several process- and technology-based vulnerabilities.
Out-of-the-box integrated product suites can deliver immense value to product launches of all scales. They intelligently weave data integration, commercial analytics, business intelligence, and AI/ML-based next-best-action recommendations across the commercialization journey, making product-based go-to-market solutions adaptable to rapidly changing market responses. Even home office users and sales reps can conveniently customize market-wide sales and marketing plans based on daily customer response patterns.
Click here to learn more about how Axtria's integrated suite of cloud products helped an established life sciences company orchestrate an automated launch plan for a new product in the neurology market.
PROGRAM GOVERNANCE
Thorough data regulation and program governance are crucial for all organizations engaging with data. Third-party vendors provide dedicated program governance solutions that are built into integrated cloud products. They include dedicated quality check mechanisms, business rules libraries, data relationship guidelines, and checks for several other data attributes. Such features ensure that all vital quality checks are automated when onboarding new data streams from the get-go, without additional effort, making the entire process scalable.
Conclusion
Integrated product-based solutions are the future of life sciences. The global market and healthcare ecosystem are dynamic, mandating continuous innovation and technological advancement. It is not feasible for life sciences companies to constantly invest in upgrading their technologies and in-house infrastructure. Integrated products adapt swiftly to real-world changes, integrate readily with pre-existing systems, and provide intelligent solutions right out of the box. At the same time, all the heavy lifting takes place on the cloud and not on-premises. By opting for integrated solutions, life sciences companies can benefit from superior commercial analytics and favorable investment returns while staying ahead of the curve in a highly competitive industry.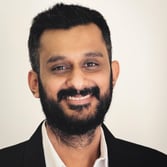 Written By:


Suraj Gupta
Suraj Gupta is a Manager, Marketing at Axtria. He has over 9 years of experience in the analytics and consulting industry, with more than 6 years with life sciences. At Axtria, Suraj has contributed to sales and marketing functions, including business and client development, knowledge management, digital marketing, business intelligence, and content writing. Suraj has an MBA degree in Marketing and a graduate degree in Economics.