Discover how Axtria SalesIQTM field reporting and analytics capabilities provide meaningful insights to help a medical device company impact salesforce effectiveness and boost sales rep productivity.


INTRODUCTION
With a highly competitive market and the pressure to do more with less, medical device organizations must have visibility into all aspects of field performance. Data availability is no longer an issue. In fact, organizations are overwhelmed with commercial and sales performance data. The challenge and the opportunity lie in gaining insightful reporting from this data to make informed business decisions.
Traditional field reporting poses several challenges:
The necessary but tedious process to track and measure every aspect of performance

Absence of a centralized sales reporting system

Inaccurate reports due to poor data quality, resulting in a negative effect on sales rep confidence and morale

Reduction in sales productivity due to lack of access to the latest sales reports

Lack of experience to determine which field reporting and sales key performance indicators (KPIs) to track

Time and cost impact due to frequent approach-adaptation changes


A modern field reporting solution needs to ingest, validate, and integrate all relevant and new data sources, and deliver timely and meaningful insights to key stakeholders in a user-friendly and easily accessible way. Whether a sales rep, district or regional manager, home office, sales VP, or any member of the administrative teams (such as IT, Compliance, Finance, and Audit) – everyone should be able to leverage insightful reporting to make informed business decisions and drive the right sales force behavior.
This blog illustrates how Axtria provided a top 10 global medical devices company an action-based field analytics and reporting solution that delivered meaningful insights to make informed decisions. The solution was user-friendly, exciting to use, and available online and offline across mobile devices and laptops.


THE PROBLEM: THE USE OF LEGACY FIELD REPORTING SYSTEMS THAT LACKED AUTOMATION AND REAL-TIME VISIBILITY INTO THE SALES CYCLE ADVERSELY IMPACTING SALES PERFORMANCE
A top global medical devices company with 1000+ sales reps did not have an automated reporting system to align the sales rep's efforts with goals. The company's sales team manually extracted the sales performance data into Excel from legacy systems and shared it with reps. These files were not very helpful in providing insights at first glance and depended on the sales rep's analytical skills to extract any meaningful information, which was not always possible due to time constraints.
Tracking and evaluating their business development efforts while managing client meetings affected their productivity levels. The on-field salesforce could not respond swiftly to market changes due to difficulty in interpreting complex data and the absence of actionable insights to inform and support decision-making in real-time.
Challenges Identified
Considerable manual effort and time spent to generate data-intensive files

Poor presentation of data in tabular format and lack of data interpretation

Lack of insightful reporting for performance monitoring and evaluation

Absence of insights and trends on potential growth opportunities


Key Objective
The key objective of the client was to drive the right sales force behaviors with an action-based reporting and analytics solution that would:
Convey summarized information in a way that is easily understandable, digestible, and actionable

Boost morale and make sales planning and operations more efficient, easy, collaborative, and exciting

Provide easy access to data both online and offline

Provide consolidated, end-to-end sales performance data in a single system to help make quick and informed decisions

Cater to different roles – sales reps, executives, and administrative teams (these teams support the sales organization, and there is some interdependency between the two) – and address their reporting requirements:



THE SOLUTION: IMPROVED VISIBILITY INTO THE SALES CYCLE ENABLED BY AXTRIA SALESIQTM

FIELD ANALYTICS AND REPORTING CAPABILITIES
To seamlessly assess the performance of sales reps and drive organizational growth, the client's leadership team selected Axtria SalesIQTM, a cloud-based platform for insights-driven sales operations that:
Provided a pre-built library of standard, out-of-the-box reports for all needs and roles

Provided role-specific dashboards with the most relevant KPIs, attractive and engaging visualizations, easy navigation, and quick availability of field insights that varied by roles

Provided both online and offline access across the web and mobile devices to efficiently deliver easy to understand insights

Integrated gamification to engage and motivate the sales teams and increase their spirit of collaboration to improve performance

Integrated Google Maps for location-based analytics, enabling commercial organizations to create the right territories, assign the right personnel, target the right customers through the right channels, and measure and reward high performance

Consolidated with the end-to-end sales performance management (SPM) solution to deliver real-time insights across every aspect of field performance and allowing for just-in-time report updates

Allowed self-service reporting to meet changing needs quickly, with minimal time and cost
THE IMPACT: MAKING INFORMED SALES FORCE STRATEGY DECISIONS THROUGH ACTIONABLE INSIGHTS IN REAL-TIME
Unified, one-stop-shop for accessing reports: The client had access to comprehensive reports across roles, with clear summary statements providing meaningful insights in real-time in a single unified system.

Real-time access to medical device sales performance intelligence: The client could closely track sales force effectiveness with a library of KPIs. These pre-defined KPIs provided a holistic view of each rep's performance on the field and enabled informed decision-making.

Recommendations on the next-best-action: Early indicators and actionable insights from data were provided within the reports, informing each sales rep on the next-best-action to tap into growth opportunities.

Role-specific dashboards: Different stakeholders could find the most relevant KPIs and field insights for their specific roles. The role-specific dashboards beautifully represented key field performance metrics meant for consumption by varying decision-makers.


KEY BUSINESS BENEFITS
Platform adoption by the sales and support teams increased by 80%

40% reduction in field inquiries in the first quarter of adoption

500+ work-hours saved per month on report generation and data interpretation

4000+ insightful reports generated monthly across roles
CONCLUDING REMARKS: USE BEST-IN-CLASS FIELD REPORTING AND ANALYTICS SOLUTIONS THAT PROVIDE ACTIONABLE INSIGHTS TO DRIVE SALES FORCE BEHAVIOR
Actionable insights are required across all areas of field performance to impact sales force effectiveness and improve sales rep productivity. Sales reports provide information regarding sales objectives and business results and guide the professional development of sales reps. Sales reports help sales leaders train, motivate, and improve the performance of their sales teams. A single action-based field reporting and analytics solution that makes the sales reporting process easier, seamless, and exciting and drives informed decision-making is the need of the hour.
It is time to give your sales teams the means to succeed! With Axtria SalesIQ™ field analytics and reporting capabilities, you can deliver accurate and engaging real-time insights across every aspect of field performance. Its rich feature set includes attractive and engaging visualizations, role-specific reports and dashboards, online/offline access across the web and mobile devices, a pre-built library of reports and KPIs, and Google Maps integration for location-based analytics.
With this state-of-the-art reporting and analytics solution, you can ensure that sales reps are engaged with your content and ever "sales " ready.

Learn More - "Top Three Opportunities For Medical Device Sales Operations"



Written By:
Mohit Tandon
Mohit Tandon is Director, Commercial Excellence, at Axtria with over 12 years of experience in sales performance management for various fortune 500 clients. He has in-depth knowledge of territory alignment, roster management, call planning, incentive compensation, quota setting, and reporting. Mohit has extensive experience in the pharmaceutical, medical devices, and energy sectors, with a deep focus on project management, consulting, and change management. At Axtria, he has worked across the entire spectrum of sales performance management on the Axtria SalesIQ™ platform.

Jyoti Agarwal
Jyoti Agarwal is Director, Commercial Excellence, at Axtria. She is a cross-functional leader with over 17 years of experience in sales performance management (SPM) across multiple industries, with a focus on the medical device industry in the last seven years. She has analyzed, improved, implemented, and managed incentive compensation (IC) plans for several clients. Jyoti has a passion for delivering successful business outcomes and helping clients achieve their strategic goals by ensuring successful implementations and automation. She has co-authored several blogs on SPM and IC design and is an active participant and presenter in industry conferences (such as WorldatWork).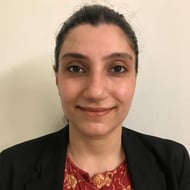 Nidhi Jolly
Nidhi Jolly is Senior Manager, Marketing, at Axtria. She has over 15 years of experience in the research and consulting industry, with about 10 years of experience working across various facets of content development, offering management, business development, and consulting services for the pharmaceutical and consumer health industries. At Axtria, Nidhi partners with subject matter experts to author thought leadership content covering data analytics, artificial intelligence, life sciences, and much more. Nidhi holds a Master of Arts in Advertising and Marketing from Leeds Business School, UK, and a Bachelor of Science in Business and Management Studies from the University of Bradford, UK.