The commercial ecosystem of the medical device industry is an intricate one. Medical device sales teams constantly watch out for opportunities across the sales process, beyond the overarching life sciences commercial protocol (salesforce structure and deployment, sales activity design, incentive compensation, and operations outsourcing). These intricacies arise from various factors, like the heavy dependence on sales reps, mechanics and scale of the products being sold (sometimes complete health solutions), diversity of the stakeholder entities involved (from market influencers to centralized purchasing teams), and back and front-end supply chain fallouts. Here are some examples.
Medical devices have a strong sales function.

Sales reps need to be significantly skilled due to the depth of product detailing and demonstration involved. While working with leaner teams, reps not only pitch products to the Healthcare Physicians (HCPs) but also demonstrate end outcomes in their narrow interaction windows.

As most products are service-oriented, sales reps are responsible for after-sales interactions as well.

Some of the most useful information comes from field operations.

Personal relationships with HCPs make sales reps extremely dominant across the sales process.

Reps significantly influence the quarter-end deals, acquisition, and contracting decisions.

It is difficult to attribute sales to marketing campaigns, leading to the random apportionment of budgets across channels.

Sometimes, this relationship supersedes the interest of the manufacturer, and they risk losing valued business with rep movements1.

Long selling cycles, and complex stakeholder relationships and contracting strategies make the commercial operations cumbersome to monitor.

Extraordinarily complex and expensive devices have low Direct-To-Customer (DTC) focus. They need the endorsement of Key Opinion Leaders (KOLs) in the market.

Limitations in third-party and competitor market share data and variations in pricing data make informed decisions a prolonged process.
Due to many such considerations, the medical device sales cycles end up being longer, less productive, and highly costly for medical device companies.
Due to many such considerations, the medical device sales cycles end up being longer, less productive, and highly costly for medical device companies. Being underprepared to monitor and streamline this process often poses severe dips in the sales ROI, leads to market share loss, and dilutes brand equity in the highly volatile market. Sales teams operating in such an environment need to acknowledge these opportunites and pursue each of them with a predefined commercial strategy. A tightly planned, executed, and monitored medical device sales operations model is the guiding force towards commercial excellence.

Learn More - Emerging Commercialization Trends For The Medical Device Industry
three of the most prominent battles that medical device sales teams often face
This blog studies three of the most prominent opportunities for medical device sales teams to get ahead of the game.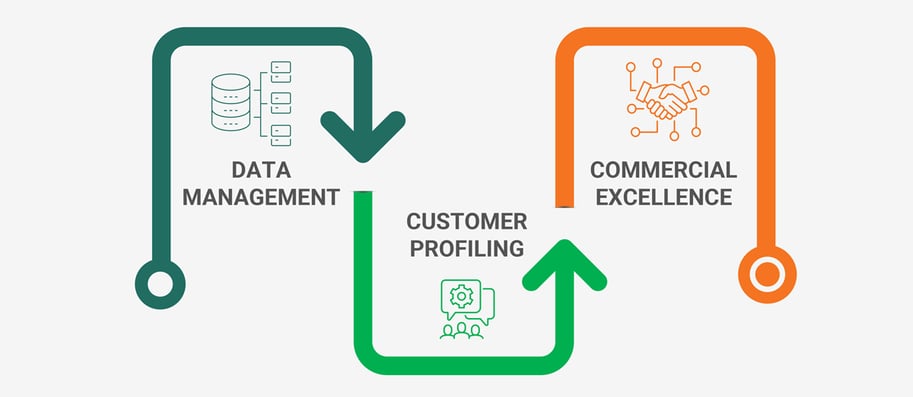 DATA MANAGEMENT
Data for medical devices are critical to administer and manage. Due to the unique approval, sales, and distribution processes involved across product life cycles, medical device companies need to make good use of all the available datasets. Some of the data characteristics are given below.
With the large number of data reporting entities involved, right from a device's approval (FDA's approval organizations2) to the supply chain (wholesale and retail distribution channels) processes, the volume and variety of unstructured data becomes tedious to harmonize. This mix of proprietary and third-party data sources makes creating a 'single-source-of-truth,' a cumbersome process.

Data for medical devices is primarily driven by claims and not retail prescriptions, making it available at the account-level and not individual HCP-level. This characteristic makes it difficult to gauge the demand-generating avenues.

A significant proportion of medical device purchase decisions are centralized. When dealing with Group Purchasing Organizations (GPOs) and Integrated Delivery Networks (IDNs), tracing the entire network of multiple HCPs, product accounts, and the corresponding relations comes with its challenges. This complex macro environment, with a series of third-party data sources, leads to inaccurate, incomplete, and delayed data.

Medical device product portfolios often consist of several parent-child account relationships. The corresponding Stock Keeping Units (SKUs) for each product type make data views even more complicated to understand and analyze.
Harmonizing stubborn unstructured data is critical towards informed decision-making. When dealing with such complications, medical device companies must focus actively on the way their data is ingested, integrated, and analyzed across all business units. Streamlining multiple data sources and standardizing and merging the corresponding datasets into a single source of truth becomes a vital first step. It is equally essential to ensure robust governance of data across its management process.
Learn More - "Laboratory Information Systems and Medical Device Industry"
CUSTOMER PROFILING
Medical device sales reps face an extensive customer portfolio. Their customers range from individual HCPs to large GPOs and IDNs, coming with a network of several purchasing decision-makers. More so, beyond pitching products, most medical device sales teams transact at an account-level with these centralized decision-makers. In such a scenario, ensuring an excellent customer profile comes with its own set of rules.
There are multiple facets of medical device sales. The field force drives compliance on existing contracts and maximizes annual sales. At the same time, Key Account Managers (KAMs) engage in contract negotiations with large GPOs, IDNs, and other centralized decision-makers. These multiple hierarchies of sales models need individual management teams ranging across product categories. It becomes challenging to profile customer portfolios, especially when they stretch across numerous specialty (e.g., imaging, surgery, etc.) and therapy areas (e.g., cardiology, orthopedic implants, etc.).


GPOs and IDNs specifically aim to lower operating costs for healthcare facilities by negotiating purchasing prices. However, high medical supply costs and reduced margins are leading to the consolidation of GPOs and IDNs3

.

With some of the IDNs merging with GPOs and moving towards leaner contracts3, the customer portfolio spreads thin, with too many shipments into separate narrow inlets of individual accounts. This situation not only increases the supply chain logistics complexities but also significantly reduces sales and profitability.

Determining the total business value of each customer account is tedious, as they cut across various product hierarchies and portfolios. Businesses with customers can range from individual products to complete care-delivery solutions. These permutations and combinations of customer engagements are challenging to track across multiple product categories, complicating the estimation and budgeting decisions.
It is crucial to have the utmost clarity of the customers and the way they interact with a medical device company. Customer data, along with field sales expertise, can be used to understand each customer account and chart out the corresponding product mapping across the various levels. This approach can simplify the process of evaluating each customer portfolio and channelize consistent sales efforts.

Learn More - Insights-Driven Next Best Actions (NBAs) To Reduce Cardiology Surgery Time
COMMERCIAL EXCELLENCE
Successful execution and monitoring are as important as planning a robust commercial strategy. With varying degrees of sales responsibilities, the field forces and KAMs struggle to operationalize their desired sales models. Some of the apparent reasons are given below.
While creating a territory alignment design for sales teams, KAMs take various routes to arrive at an optimized plan. Some customers are contacted based on their geographical ZIP-Codes, while the more significant, centralized customers at the account-levels. Few customers are recognized at the hybrid of the two as well. These alignment differences are critical, owing to the scale of medical device products being sold. As a result, the territory alignment process becomes more cumbersome, and the sales structures less flexible. In many cases, medical device stakeholders are not available in the same zip-code, city, or even state, reinforcing the importance of the KAM role.

While targeting different customers, especially at the account-level, all the underlying decision-makers need to be approached strategically. Sometimes, this leads to multiple targets within the same accounts, adding many more complex layers to the segmentation and targeting process.

Sales reps face many roadblocks while executing the sales process, such as complicated product portfolios, back-end supply challenges, longer sales cycles, and reduced productivity. These challenges come in the way of creating fair and equitable goals and quotas, overall impacting their motivation.

Learn More - Key Forces Transforming the Medical Device Commercial Landscape
CONCLUSION
To ensure accelerated outcomes from commercial strategies, medical device companies need an innovative commercialization approach for their end-to-end sales processes. Since the selling and purchasing process could be long and arduous, the need for a comprehensive system of data, analytics, and decision enabling networks is critical to making the right choices. The first step is robust data management to create an on-demand single-source-of-truth. Various analytics models can then be designed to ensure accurate and timely actionable insights at the point-of-decision. The results can lead to multiple operational and business benefits.
Predictive insights into salesforce requirements

Account-prioritization by business potential

Key accounts-based territory alignment

Gamified sales processes for rep motivation

Balanced qualitative and quantitative compensation designs

Streamlined customer-to-product tracking

Simplified end-to-end SKU-to-contract chain

Optimized salesforce structuring to meet business objectives
Medical device companies work hard to succeed in the demanding and competitive healthcare landscape. The ability to pursue these opportunities, while being at the forefront of innovative commercialization, and satisfying existing customer relations can help them get ahead of the curve. Along with sophisticated data management, advanced analytics, and commercial operationalization solutions, end-to-end integrated platforms can help them punch above their weights. These platforms have proven to benefit customers with flexibility, agility, and scale while deploying enterprise-wide solutions. Implementing such cloud-based platforms will prove to be their single most winning proposition in the times to come.
REFERENCES:
The Share Thief: How to Steal Market Share in Medical Devices, available at https://www.stealingshare.com/wp-content/uploads/2014/07/Medical-Device-Brand-Thief.pdf
ScienceDirect: Drugs, Devices, and the FDA: Part 2: An Overview of Approval Processes: FDA Approval of Medical Devices, available at https://www.sciencedirect.com/science/article/pii/S2452302X16300183
Definitive Healthcare: Effects of IDN and GPO Consolidation on the Healthcare Supply Chain, available at https://blog.definitivehc.com/idn-gpo-consolidation-healthcare-supply-chain