The journey from sourcing data to making data-driven decisions is critical and complex. In this journey, life sciences companies transit via several opportunities to define a competitive edge for themselves in the market. Using information about disease prevalence, prescription patterns, and patient behavior can be significantly beneficial in planning, optimizing, and ensuring the right drug to the right patient at the right time.

To this end, companies continuously search for innovative and scalable technologies to upgrade their legacy systems which are often siloed. Axtria's recent survey1 found that most life sciences companies acknowledge the need to advance their in-house data and analytics systems towards more robust, integrated, and scalable alternatives to transform their operations. In the aftermath of the global pandemic, the industry-wide urgency to accelerate digital transformation initiatives is high, and companies are using this as an opportunity to advance their technology transformation strategies.
A few roadblocks to such disruptive yet much-needed transformations:
Friction from the internal legacy systems. Companies often find it exceedingly challenging to replace traditional data and analytics systems with new and innovative technologies, especially if the changes require a significant overhaul.

Resistance comes not just from the inertia of the legacy infrastructure but also from multiple business leaders and fixed mindsets within different parts of the enterprise.

Such resistance and delay, coupled with a reluctance to spend and lack of foresight, often hinder life sciences companies from making the much-needed leap towards scalable transformative decisions.

At times, the alternatives are point solutions or patchwork and do not offer significant improvements. This lack of value leads to further disillusionment and decision-paralysis.
The life sciences companies are aware of these issues that plague their operations and outcomes. They seek a solution that is easy to implement and adopt and is self-serve right out of the box. This blog explores the potential of an integrated product ecosystem to fix the prominent issues with most digital transformation journeys and guide life sciences companies towards a well-rounded state of future-proof digital transformation.

In the upcoming sections, we will learn how a connected product ecosystem can help life sciences companies gain a competitive edge by seamlessly interweaving information, analytics, and technology, all on the cloud. An end-to-end integrated product ecosystem is significantly suited for life sciences companies of varying sizes, maturities, and industry segments (pharma, biotech, emerging biopharma, med-tech, animal health, etc.). This plug-and-play product ecosystem enables an integrated journey of data>insights>planning>operations, delivering significantly improved commercial and patient outcomes.


Data Management
Data has grown exponentially across three dimensions – volume, variety, and velocity. This explosion has created the need for integrated systems to harness information efficiently to meet the growing needs of life sciences enterprises. It is critical to break down the enterprise-wide data silos and establish a unified modern data management solution that drives a single source of truth about the customer, product, payer, patient, and clinical data. One consolidated view helps decision-makers across different organizations to stay true to the data, be interconnected with multiple teams, and make well-informed decisions impacting numerous aspects of the business.
Integrated cloud-based products can help create clean, pliable, and well-governed data, which is cataloged with data masters, meets privacy norms, and deploys business rules-driven controls to ensure use case contextualization. They help move beyond traditional data systems and cleanse data records into consistent profiles and groups that serve multiple objectives for different personas across the enterprise. This enhances the quality of the data and adds value to numerous functions.

Mapping the interconnectivity of personas and their corresponding organizations can be difficult for life sciences companies, including affiliations by associating each persona with the various entities they serve. As the industry consolidates with an increasing number of channels, with multichannel and omnichannel approaches, and even mergers and acquisitions at macro levels, the requirement for adaptive data relationship management becomes critical. Data management products are business rules-driven and tackle such complexities with ease. They are not only capable of mapping complex relationships but are also agile in adapting to changing relationships over time.

Data quality is the fundamental pillar of enterprise-wide data management. The ability to proactively monitor and notify data quality is critical to all commercial applications using it. Pre-configured business rules-driven data management solutions can perform data quality checks against completeness, consistency, timeliness, uniqueness, validity, and referential integrity. Such capabilities increase data accuracy to drive strategic business decisions.

Legacy data systems suffer from geographical constraints. Traditional data warehouses are constrained by scale and speed issues. The ability to leverage the cloud to create a single view and have access to business-critical data is the key to success. Cloud solutions effortlessly manage data, accounting for language, timeliness, structure, and regulatory differences. Their pre-built connectors rapidly onboard, integrate, and govern various geographically diverse data sources, making it possible to consume innovation at a rapid pace.


On-demand analytics and artificial intelligence (AI)-driven analytics industrialization
Data feeds into analytics, and derived insights drive business results. Data quality and integrity can increase the accuracy of analysis, and this analysis has the power to deliver prescriptive and predictive intelligence for business decisions. It is crucial to ensure a robust analytics engine for making critical business decisions quickly and confidently. While data management systems form a foundational pillar, on-demand and industrialized analytics capabilities ensure successful planning and execution of strategies.
Analytics models need to adapt to the dynamic needs of life sciences companies which operate in different environments, are exposed to varying commercial and regulatory backgrounds, and have diverse commercial objectives. Having point solutions to answer enterprise-wide analytics requirements is an investment in failure and is strongly discouraged. Instead, an analytics workbench rapidly adapts to modern real-world complexities and is swiftly customizable to unique commercial needs. It is designed to accommodate multiple channels and decision-makers and offers personalized views for persona-relevant insights.

AI-driven predictive triggers can help sales and marketing teams with advanced simulation and scoring models. Such product-based analytics solutions can offer next best action (NBA) recommendations for each customer persona along the promotional journey. By accurately predicting customer responses using scoring models and then triggering the NBA, companies can provide their customers with the best omnichannel brand experience possible.

Providing customers with a connected omnichannel experience means consistently delivering the right message through the right channel at the right time and the ability to calibrate based on real-time changes. As multiple customer personas progress through their buying journeys, each consumer demands dedicated attention and a well-thought communication plan. A next-generation analytics engine is powerful enough to create, train, grow, and sustain complex algorithms to support automated communication campaigns across multiple channels for customer personas (e-detailing content, email, display, web, video, or mobile).

One of the most recommended transformational levels for life sciences companies is to foster a culture of analytics democratization. By empowering all stakeholders and decision-makers with the power of on-demand self-serve analytics, informed decisions are accelerated. Only integrated cloud solutions can offer industrialized analytics capabilities, helping business users easily take control of the insights they want to generate for their teams. This is usually facilitated by modular analytics components and a no-code approach to creating intelligent algorithms.




Integration with commercial processes to effectively plan and operationalize
Data-driven insights are of limited value if they are not action-oriented. Business insights should be relevant to each decision point and recommend the best course of action to execute. Clear action plans and tactical roadmaps are the desired outcome of all analytics activities in an enterprise. A next-generation product suite seamlessly integrates all aspects of commercial planning and operations. They support real-time value by guiding the NBAs across various commercial processes.
A robust product suite proactively integrates sales, marketing, and other performance management data sets. It brings together all siloed field intelligence, and sales and marketing analytics capabilities to provide a unified and consistent commercial blueprint for all functions in a life sciences company. By working with a clear business objective in mind, business users can leverage the relevant action-oriented insights to make prompt decisions on the best course of action for several sales and marketing processes.

The modular nature of such products enables business users across various commercial processes to play with multiple components, such as segmentation and targeting, territory alignments, and call planning, to ensure quota achievement.

Such integrated product suites are tailor-made for the life sciences industry and offer end-to-end channel design, planning, and measurement for multiple commercial processes. Their enterprise-grade technology securely delivers improved productivity, efficiency, and scalability. Business users, such as sales reps, can significantly benefit from an integrated view of the customers and all-around business performance to curate personalized action plans and maximize performance.
An integrated cloud-based product ecosystem reduces the time from data to operations by deploying embedded data analytics capabilities to automate business processes and drive intelligent commercial operations with real-time, data-driven decision-making. These product ecosystems enable scalability with adaptive capabilities and integrated workflows to improve enterprise-wide speed, efficiency, and performance.


REFERENCES
Suraj Gupta, Axtria Inc. From Traditional to Omnichannel Customer Engagement – An Industry Perspective. Available from

https://insights.axtria.com/blog/from-traditional-to-omnichannel-customer-engagement-an-industry-perspective

[published online September 2021]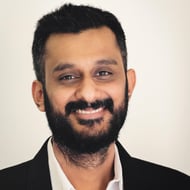 Written By:


Suraj Gupta
Suraj Gupta is a Manager, Marketing at Axtria. He has over 9 years of experience in the analytics and consulting industry, with more than 6 years with life sciences. At Axtria, Suraj has contributed to sales and marketing functions, including business and client development, knowledge management, digital marketing, business intelligence, and content writing. Suraj has an MBA degree in Marketing and a graduate degree in Economics.