Introduction
Omnichannel – it's a word that might have cropped up in meetings, presentations, and even conversations around the coffee machine. It is the "it" word of today's business world. Thanks to the efficiency that comes with it, omnichannel marketing has become the most sought-after and successful strategy for companies across the globe. Before we dive deeper into the subject, let's understand what it entails.
What is Omnichannel Strategy?
The world around us has evolved to include many technological advancements, but one thing remains constant: the customer is still the king. Adapting to today's modern, digital world means reaching out to customers differently. This is where omnichannel marketing strategies come in.
The multichannel approach uses many avenues to reach the customer, while an omnichannel strategy interconnects those avenues to deliver one seamless messaging experience. Omnichannel covers the entire customer journey, from the first product introduction, through the customer's own research and consideration of the product, to the user's adoption and continued use of the brand. Omnichannel strategies are integrated, intelligent, and coordinated interactions that are more effective than a multichannel method, driving loyalty and customer retention.
White Paper
Omnichannel Engagement: Why Isn't Pharma There Yet?
The Benefits of an Omnichannel Plan
There is no shortage of ways to reach customers. They can be sent push notifications, text messages, email, and social media, as well as "above the line" or ATL marketing (broad, brand-building) combined with "below the line" or BTL marketing (targeted to a specific group).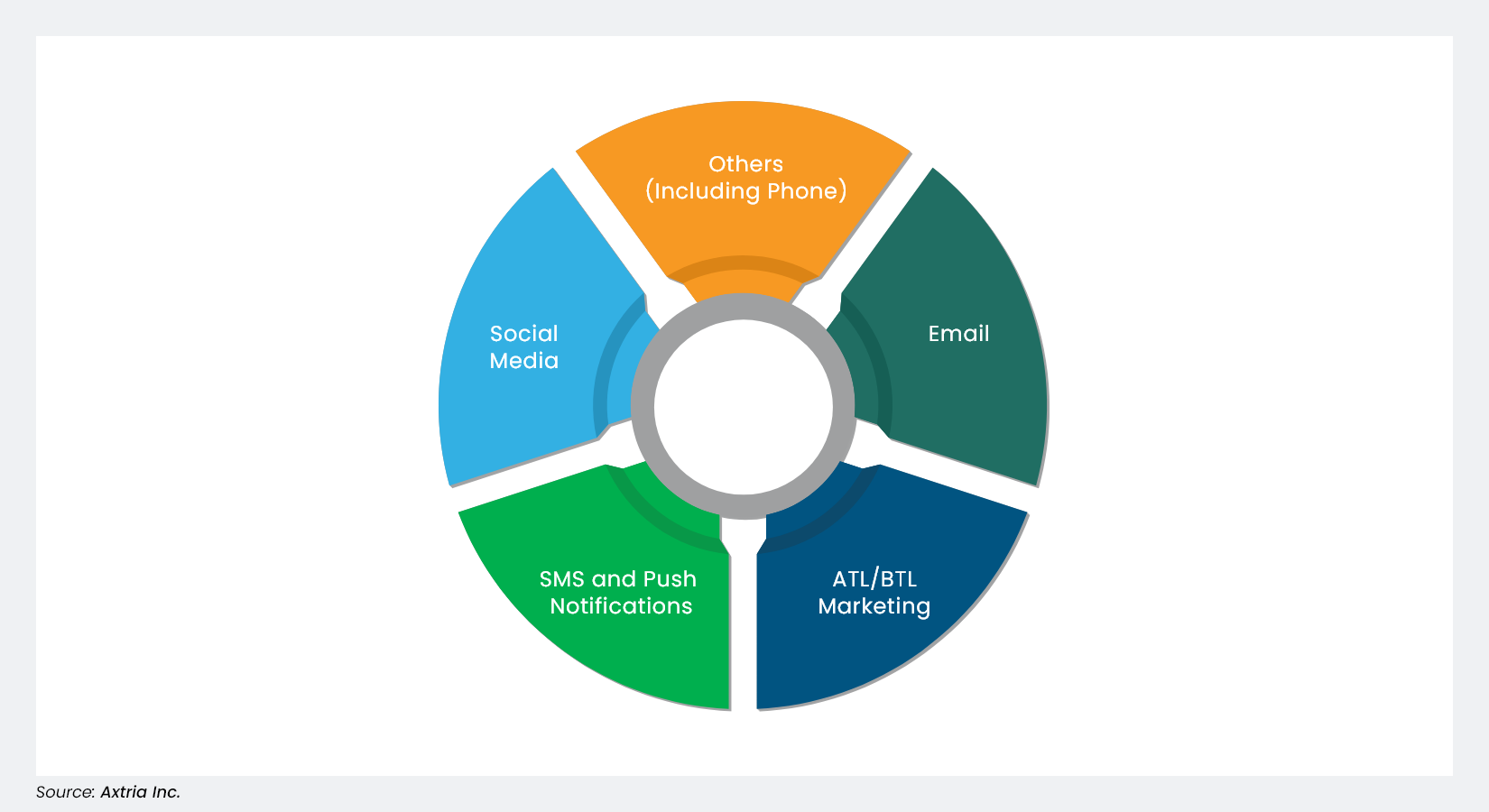 Figure 1: The world of omnichannel
While multichannel marketing uses several of these avenues, omnichannel intertwines them. Often, each channel takes the handoff from another channel along the journey to educate the customer. Let's look at some benefits.
Customer Experience: A well-executed omnichannel marketing campaign always aligns with the customer experience. When coupled with artificial intelligence (AI) and machine learning (ML) capabilities, omnichannel strategies can develop customized messaging attuned to consumers' likes and dislikes.
Business Optimization: One of the most significant benefits of an omnichannel strategy is its ability to reduce costs for the company by appropriately matching messaging with the relevant consumer. That reduces the chances of ignored messages and wasted efforts and contributes to healthy revenues.
Competitive Edge: Omnichannel's detailed data analysis increases customer retention and gives a business an edge over its competition. With omnichannel marketing, a company can do in-depth consumer data analytics and gain valuable insights. Such data analysis can also help build better products to suit customer needs.
Sales Growth: When translated well and shared with sales teams, omnichannel enhances sales team performance, leading to more customer conversions and a greater understanding of consumer behavior.
Service and Support: Whether your business primarily operates through mobile apps, a website, or a brick-and-mortar store, an omnichannel marketing strategy offers enhanced customer service and support. Companies can formulate a better rapport and earn loyalty.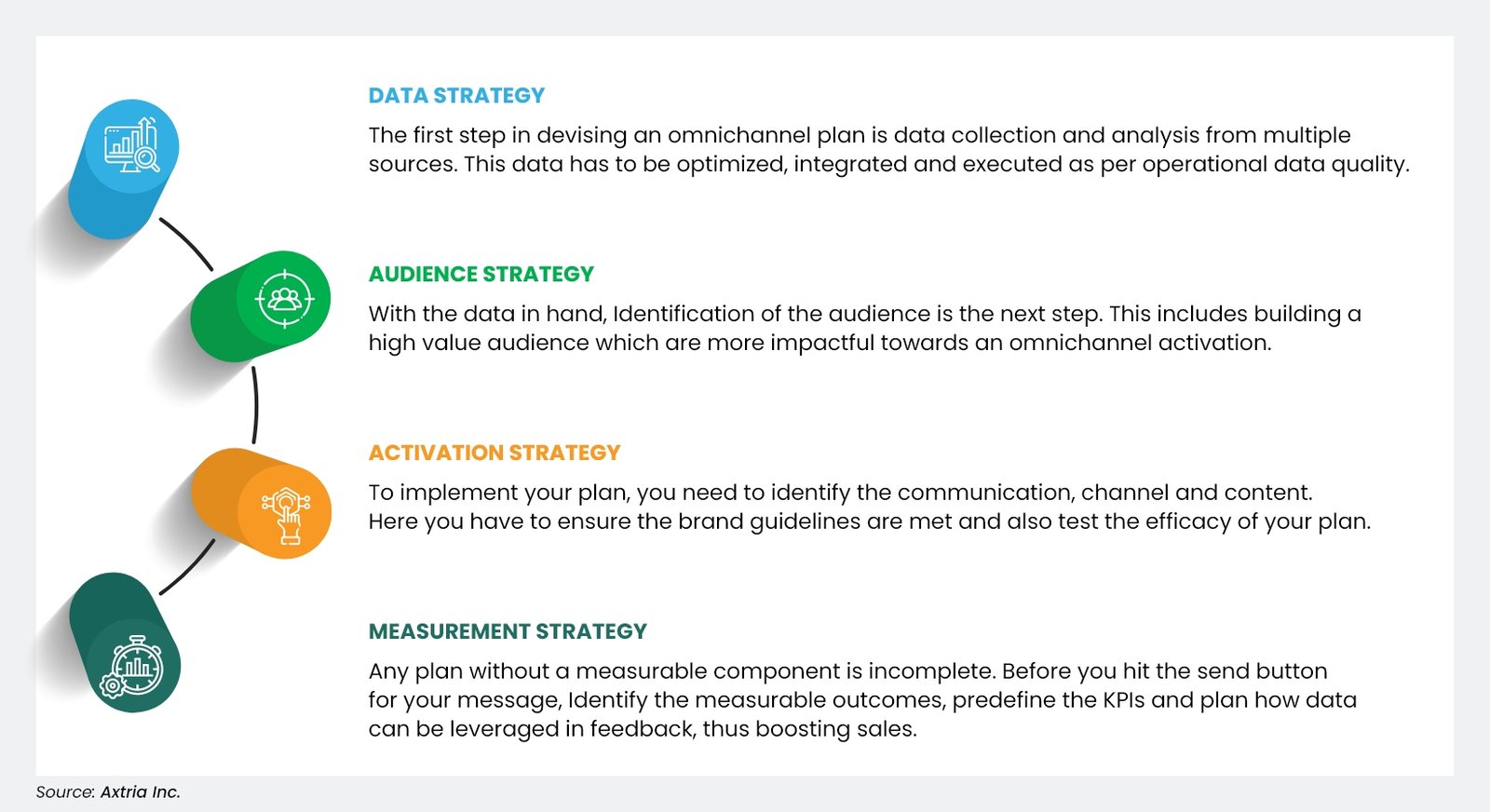 Figure 2: The strategic pillars of an omnichannel plan

Tips and Essentials for Creating an Omnichannel Strategy
While building an omnichannel strategy, you must never forget the three Cs: put the Customer first and ensure Consistency in Communication. They will help you reach the customer with tailored offerings and ensure you follow up with the right messaging to drive engagement.
When designing any omnichannel strategy, there are also three As that are essential: Artificial Intelligence and Analytics, which lead to Automation. With an analytics-enabled omnichannel strategy and AI-driven segmentation of content and data, companies' sales reps can turn to automation to save time and effort.
An ideal omnichannel plan increases a brand's touchpoints throughout the customer journey while enhancing the experience and increasing engagement with the end user. The right cadence can produce the desired impact for a campaign, creating a win-win scenario for both the company and the user.
Industry Primer
Omnichannel Marketing: A Primer
Examples of Omnichannel Strategy Across Functions
Omnichannel for Marketing – Omnichannel marketing uses different channels, weaving them together to deliver the best communication, all while building customer interest.
Take, for example, the renowned omnichannel method adopted by Starbucks. The global coffee chain introduced its Starbucks Rewards App, which gives users coupons to redeem at stores, helps them avoid lines, and quickly places orders. This unique app has generated a loyal customer base and allows customers to personalize it with their likes and preferences, leading to higher foot traffic and customer retention. In fact, in the company's Q2 fiscal 2023, Starbucks declared that its Rewards App membership hit 30.8 million users, up by 15% on a yearly basis. And this accounted for a whopping 57% of the company's US revenue in the same quarter.1
Omnichannel for Retail – An enriching omnichannel retail strategy is an integrated marketing and sales experience, resulting in the customer receiving a superior experience.
Imagine a customer opening an e-commerce app and browsing for jackets. After scrolling through multiple pages, the confused customer wonders whether this is the best platform. Is he getting the best price or the best discount? Feeling confused, he closes the app and decides to revisit later. Now, the e-commerce app sends a push notification to the customer: "Hey, continue your search for the perfect summer jacket!" along with an email that displays a selection of best-selling discounted jackets and a link to the website, a social media ad, or a text—all giving one message: "This e-commerce app has the best jackets for you!" Of course, the key here is to plan the messaging sequentially so the customer is led to the app without being bombarded with notifications.
Omnichannel for Content – As we've mentioned, an omnichannel content strategy aligns one message across all channels. In this, streaming services have mastered the process. You can start watching content on one device–a smart TV, mobile app, or website–and use another to pick up where you left off. But that seamlessness is only part of it; recommendation engines are where the omnichannel experience shines through. Using artificial intelligence and machine learning, these engines generate relevant suggestions for further viewing. Netflix's engine is among the most well-known. As far back as 2015, the company boasted its recommendations were responsible for 80% of viewed content, compared to 20% from user searches. It was so successful, in fact, that Netflix claimed the engine saved the company $1 billion in costs per year at the time.2
Omnichannel for Digital – In today's digital-first world, omnichannel aligns a business' offline and online presence. When inside a physical store, many customers look up a product's price online. With a holistic approach, companies can offer a seamless experience to their customers with the same offerings in their online and offline stores. For example, suppose a store is running a sale. In that case, the deals and discounts should be similar online and offline, including social media marketing around the sale to inform users about the exciting discounts.
Disney theme parks offer a classic example of an omnichannel experience governed by a built-in cadence that is systematic and customized to the user's journey within the park. Upon entry, you pick up a MyMagic+ wristband customized just for you. The band has an embedded RFID chip, making it a personalized key that allows access to various experiences and places within the theme park. Furthermore, the band is linked to the Disney app, which becomes your guide throughout your visit. When you return home, the data collected from the wristband (the rides you chose and the places you visited) determines which offers you receive via text, email, social media, and direct mail. In a 2015 earnings call, then-Chief Operating Officer Tom Staggs credited the bands with increasing the number of guests who said they intended to return to the park and called them a positive contributor to the quarters' financial results.3

Article
Measuring Pharma Omnichannel Effectiveness: A Role-Driven Approach
How to Build an Omnichannel Strategy
The first step toward building an effective omnichannel strategy is to thoroughly analyze your customers' needs and behaviors along with any existing data points. Understanding these will help you design and personalize your plan for a unique customer experience.
The next step is to identify your customer touchpoints. Do this by mapping your brand's visibility from a customer's point of view. From mobile apps to websites to ads on third-party websites, understand how your brand is visible to the customer.
Ensure that your business offers a convenient and seamless digital experience by analyzing all available historical data to discover insights into the customer. The company should have a functional mobile app and website that complements the other aspects involved—from an in-person meeting to phone calls or emails. Create a mobile experience for your customer with personalized offerings, simplified navigation, and a simplified call to action.
Once the data is studied and aligned to develop personalized customer offerings coupled with a digital experience, you should zero in on the messaging to the end customer. With user-focused content, you can boost your reach and search engine optimization (SEO) score to multiply the incoming referrals, leading to customer conversion.

Article
The Fundamentals Matter - Foundational Priorities For Omnichannel Success
Omnichannel in Pharma – A Tough Task, Simplified
The pharmaceutical and life sciences industry saw a massive boom during the COVID-19 pandemic. HCPs had their hands full. Now, they have realized the need for targeted and tailored solutions for their patients. The graph below shows projected gains and faster-than-expected growth in the next few years.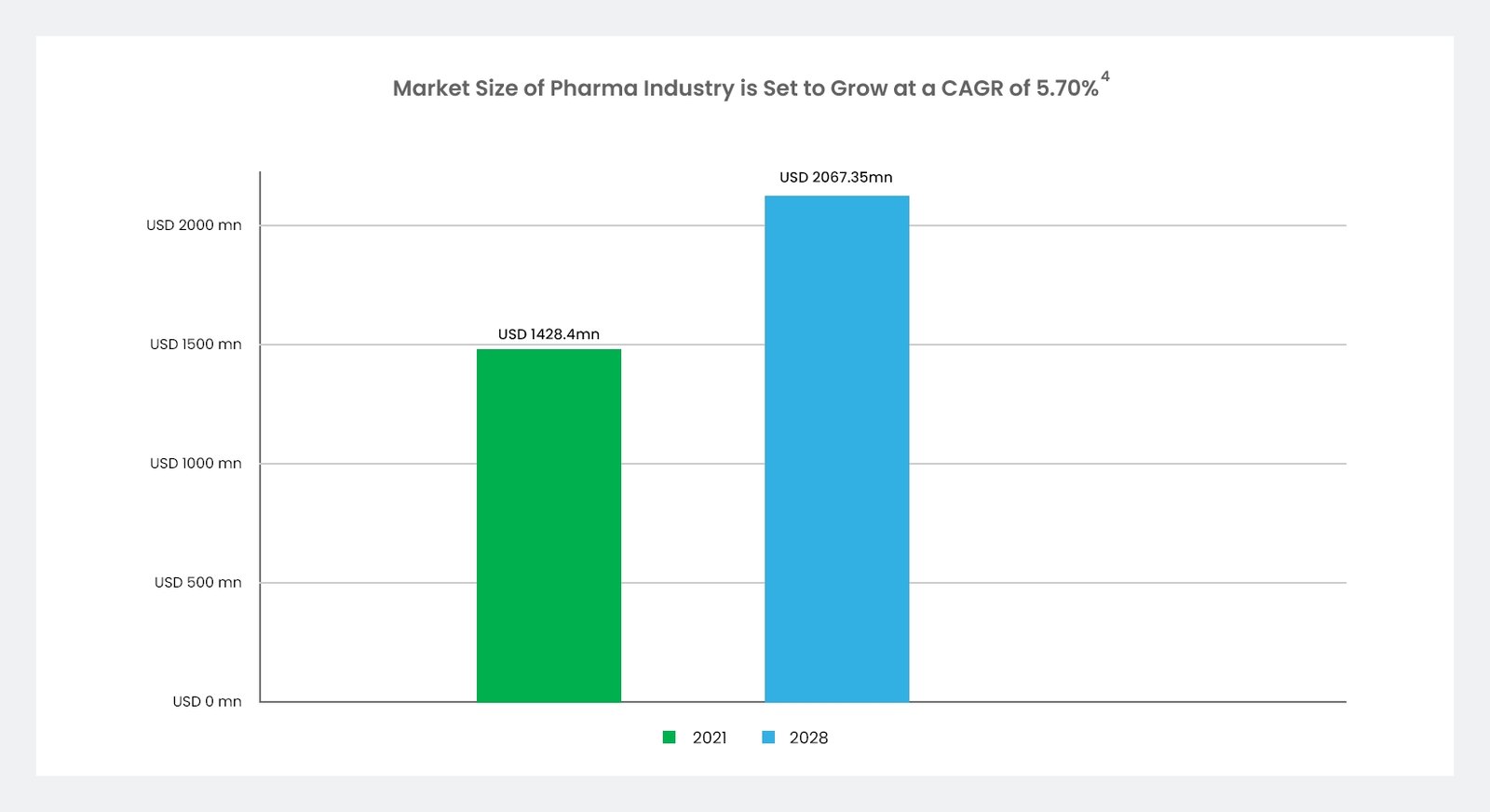 Figure 3: Predicted growth of pharma industry market size
However, the industry has only recently woken up to the need for digital enhancements. While there has been a significant ramp-up with pharma companies embracing digital developments, omnichannel marketing strategies are a necessary next step.
In the pharma industry, face-to-face (F2F) visits with healthcare providers (HCPs) have always been, and will remain, essential. These in-person visits help sales representatives build rapport with HCPs and help us understand their needs. However, following a F2F visit with a cross-channel component is vital to further growth.
Pharma omnichannel campaigns use specific, personalized messages delivered at the right point in the HCP's journey. These messages, delivered through several channels, effectively engage the customer and help marketers and sales reps develop a 360-degree approach. Building this kind of experience requires sufficient data on the HCPs, detailed market analysis, and historical prescribing data.
A data-driven omnichannel strategy using AI helps pharma companies achieve more. For example, historical data will help craft personalized recommendations to consumers. A pharmacy app can send patients reminders based on their last purchase so they can order their next supply on time. The app then follows up with a blog that gives them a broader view of the dos and don'ts of taking their prescription medication.
White Paper
Selecting The Right Omnichannel/NBA Algorithm
Conclusion and Takeaways
A well-defined omnichannel strategy with the right messaging is beneficial for businesses across the globe. No matter the sector you represent, reaching out to the end customer is crucial, and an omnichannel strategy helps you do so seamlessly. With the power of data and AI, businesses can drive successful omnichannel marketing campaigns that hit the right spot for the consumer. Think outside the box, get creative, and solidify a strong presence for your business today.
References
Starbucks Corporation. Starbucks reports Q2 fiscal 2023 results. Press release. May 2, 2023. Accessed September 25, 2023. https://investor.starbucks.com/press-releases/financial-releases/press-release-details/2023/Starbucks-Reports-Q2-Fiscal-2023-Results/default.aspx
Gomez-Uribe CA, Hunt N. 2015. The Netflix recommender system: algorithms, business value, and innovation. ACM Trans. Manage. Inf. Syst. 6, 4, Article 13 (December 2015), 19 pages. DOI: http://dx.doi.org/10.1145/2843948
Iger B, Staggs T, McCarthy C, Singer L. Q3 FY15 earnings conference call. The Walt Disney Company. August 4, 2015. Accessed September 25, 2023. https://thewaltdisneycompany.com/app/uploads/ir/2015/q3/q3-fy15-earnings-transcript.pdf
Facts and Factors Research. Strategic analysis of global pharmaceutical market size projected to reach USD 2,067.35 million by 2028, predicts Facts & Factors. Press Release. May 23, 2023. Accessed September 25, 2023. https://www.prnewswire.com/news-releases/strategic-analysis-of-global-pharmaceutical-market-size-projected-to-reach-usd-2-067-35-million-by-2028--predicts-facts--factors-301832066.html