Prescribing decisions in the institutional setting differ considerably from the retail setting. As noted in the figure below, HCPs are influenced by several parties, both internal and external. While the health of the patient and safety of medications continue to be of paramount importance, over the past several years, financial considerations have increased attention on quality of care. No longer is a hospital's survival dependent on the "hotel model" (where higher occupancy equals greater profitability), rather insurance companies, in an effort to control costs, are incentivizing institutions (IDNs) to keep patients healthy, reduce the length and frequency of hospitals visits, etc. Further, as new information systems and technologies are implemented (many driven by requirements outlined in the Affordable Care Act) the ability of key payers to manage costs and processes will improve. This will continue to drive the behaviors of healthcare professionals and their employers.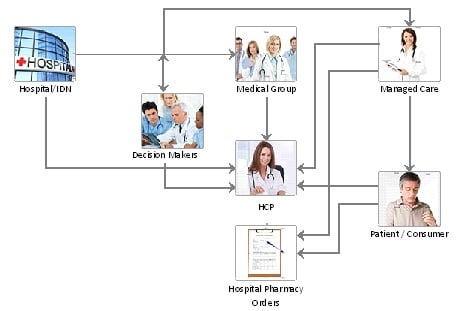 Account-Based Planning & Selling in an Institutional Setting
From an institutional perspective, accounts are defined as organized groups of customers such as medical groups, institutions/hospitals, and integrated delivery networks (IDNs). An account-based planning and selling approach is typically employed in response to the emergence of large, organized customers where decision-making involves complex networks, often with centralized stakeholders.
Pharma needs to identify and build relationships with key influencers at institutional accounts recognizing the prescribing impact both within the institution as well as post-discharge. An account-based planning/selling model looks to penetrate the different layers within a stakeholder network, employing a more holistic approach to influence complex decision-making processes. Pharma sales strategies and tactics should be focused on orchestrating activities and touch-points by leveraging and coordinating sales and marketing resources at the enterprise level.
The introduction (or expansion) of an account-based model will not, in all likelihood, replace existing prescriber-based models. In many cases, the account-based model will actually be positioned to work alongside the 'traditional' institutional sales teams in a capacity that orchestrates account level activities & touch-points. Account-based staff may have responsibilities across several large accounts in a given geography, in many cases well beyond the scope of an institutional sales representative. Their ability to incorporate best practices across accounts, understand payer influences, and lobby for corporate resources improves selling opportunities and positions the company to maximize product performance.