The COVID-19 pandemic has accelerated several changes in the pharmaceutical commercial model that were already underway: the digitization of sales rep-physician engagement, an influx of data volume and complexity, and more. As the business model continues evolving rapidly, companies who maximize their data value by leveraging integrated and scalable approaches can better serve their patients and stakeholders. With strategic, insights-driven decision-making, companies can transform patient health outcomes while maximizing business success and reducing costs.
As COVID-19 vaccine rollouts and virus variants steer the world into further uncertainty, now is the time for pharma companies to redefine their business models, products, and services. To help, we have compiled some of the year's most insightful content for transforming your commercial success strategy in 2021 and beyond.
Here are five quality reads to help you future-proof your commercial operations:

[White Paper] Do Pharma Companies Need To Rethink Their Sales Operations Design? – The short answer is yes. The COVID-19 pandemic has affected sales operations design, management, and engagement significantly. Although vaccine distribution will eventually reopen access to physician offices and hospitals entirely, the industry is rethinking direct sales forces, which will affect their sizes and objectives. To provide doctors and patients with needed drug information, pharma companies will need to employ indirect sales forces and digital or tele-engagements with reps and healthcare professionals (HCPs). This white paper details how pharma companies can adapt to evolving sales force sizing and direct engagements.
Key Takeaway: To future-proof sales operations, companies must prepare for changing the size and objective of direct sales forces, as some of these changes may be permanent post-COVID.

Learn from what has worked. Click here to read our 2020 Incentive Compensation (IC) Benchmarking Study, which provides valuable insights on the top IC practices pharma companies employed last year.




[Blog] Evolution Of Marketing-Mix Methodologies To Account For Managed Care Dynamics – For 25 years, the pharmaceutical industry has relied on marketing-mix (MMx) analyses to measure promotional activity effectiveness and optimize marketing budgets. As digital channels exploded, so did MMx methodology to accommodate complex interactions between varying promotional types. This blog explores several analytical techniques pharma companies can employ to incorporate managed care dynamics into MMx models.

Key Takeaway: As COVID-19 alters the managed care ecosystem through job losses, telemedicine, and more, pharma companies should consider incorporating managed care dynamics into MMx models. Measuring promotion effectiveness will enable pharma companies to make better, data-driven decisions on their marketing strategy.

Can marketing data hubs enable insights 4x faster? You bet. Click here to read how Axtria helped a top ten multinational pharma company achieve faster, analytics-ready data to support marketing analytics and insights at scale.

[Blog] Key Opinion Leaders For Pharmaceutical Companies: How Do You Identify The Right Experts For Your Brand? – Pharmaceutical companies rely heavily on key opinion leaders (KOLs) to create awareness about drugs and lend credibility to their products amongst the medical community. Developing a KOL engagement strategy using KOL mapping and identification can help companies identify the right KOLs for brand adoption. Doing so involves applying the right filters and analytics to the data to yield actionable insights in the selection process.

Key Takeaway: Through KOL identification and mapping, pharma companies can engage the right KOLs to create buzz around innovative products early on and help improve treatment outcomes.
Specializing in Rare Diseases (RDs)? Click here to learn how KOL mapping can help RD marketers circumvent RD commercialization challenges and identify the right influencers for brand adoption.




[Blog] Targeting Calibration In Rare Disease Markets – Optimizing Planned Investment for Non-Writers – Approximately 7,000 classified rare diseases (RDs) exist, yet most do not have FDA-approved treatments.¹ Despite the market's high RD treatment demands, pharma companies face challenges adopting RD treatments due to their minimal patient populations (<200,000 patients in the US, but usually much lower).¹ Therefore, many RD marketers allocate higher-than-necessary promotional spending towards HCPs who have never written a script for their product (aka, "non-writers"). This blog offers a tactical framework to help companies decide when to give up on non-writers and reduce the enormous, associated prospecting costs.

Key Takeaway: Using suitable approaches, commercial analytics teams can prepare for RD targeting challenges while engaging HCPs productively.

What other challenges do pharma companies face when commercializing orphan drugs? Click here to read our infographic to learn more.




[Blog] Why Should Small And Medium Pharma Companies Move Away From Point-Solutions? Part 1 – Large and established pharma companies often set the fast pace of the life sciences ecosystem. To maintain this pace, they must ensure consistent product innovation, accelerated speed to market, and airtight commercial strategies for thorough market penetration. So how can small-and-medium (SMB) pharma companies keep up the pace and compete?

Key Takeaway: Integrated, end-to-end commercial data and analytics solutions trump siloed point solutions in helping SMB companies ensure scalable, sustainable success.

Want proof? Click here to learn how Axtria helped an SMB pharma organization successfully launch a new orphan drug using a commercial data platform with high-impact return-on-investment.
References
Rare diseases - challenges associated with orphan drug commercialization [Infographic]. Axtria Insights. Axtria. [Date unknown; cited April 29, 2021]. Available from:

https://insights.axtria.com/infographics/rare-diseases-challenges-associated-with-orphan-drug-commercialization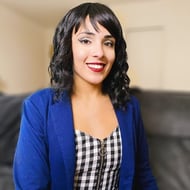 Written By:
Rebecca Lorenzo
Rebecca Lorenzo, Marketing Associate at Axtria, is a digital content writer with over seven years of writing and communications experience across many mediums: copywriting, news reporting, script-writing, journalism, research reporting, public relations, and social media management. Rebecca works both independently and in partnership with life sciences subject matter experts to author innovative thought leadership content about data analytics, artificial intelligence, pharmaceuticals, and much more, with pieces in esteemed publications like WorldatWork, the Journal for Clinical Studies, and International Clinical Trials Magazine. In the past, she was a director and writer for a music news publication. She is known for her laser-sharp attention to detail and out-of-the-box creativity. She holds a Bachelor's degree in Communications and a Minor in Literature.